Deliberate fire at Glasgow 'shooting garage'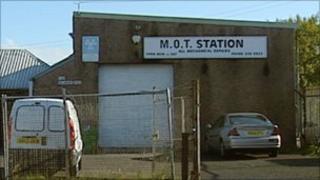 A fire at an MOT testing garage in Glasgow which was the scene of a fatal shooting four years ago was started deliberately, police have said.
Emergency services were called to Lambhill Autos, in Balmore Road, at about 2020 BST on Wednesday.
Five cars were found to be ablaze but no-one was injured in the fire.
The garage was the scene of a triple shooting in December 2006. Michael Lyons, 21, died in that attack and two other men were seriously injured.
The owner of the garage is Michael Lyons' uncle, 51-year-old David Lyons, who is suing Strathclyde Police for defamation over allegations he was involved in organised crime.
He said the vehicle inspection agency VOSA revoked his MOT licence over police allegations that he was involved in organised crime and drug trafficking.
Several members of Mr Lyons' family have been involved in crime-related incidents.
His brother John was shot in a gang attack, his older brother Edward has been convicted of mortgage fraud and his son Paul is serving 12 years in prison for a road rage killing.
David Lyons claims, however, that he is not involved in criminality and is seeking a judicial review of the decision to revoke his MOT licence.
Speaking to BBC Scotland, he said: "There are some members of the family involved in crime but the media have blew it out of proportion quite a lot."
He said the family saw its name in the newspapers over things that had "nothing to do with us" because they involved people who were friends of the Lyons'.
"All I do is fix cars. Why should I be held responsible for other people?" he asked.
Mr Lyons' defamation case centres around how police have been passing intelligence - short of hard evidence - to tax and licensing authorities in an attempt to put pressure on organised crime.
'Never charged'
His lawyer, Cameron Fyfe, told BBC Scotland that the reputation of his client's family was irrelevant and that it was the lack of evidence against him that mattered.
"He has never been charged with any serious crime, he has never been arrested for any crime," he said.
"In a sense you have to congratulate him that he does have this family who are heavily involved in crime and yet he has managed to remain immune from it."
Mr Fyfe said that if his client won his defamation case, Strathclyde Police would have to pay him compensation.
If Mr Lyons' case is successful, it could call into question the current police strategy for using intelligence to disrupt criminal activity.