Mystery man gives Glasgow cancer charity shop £20,000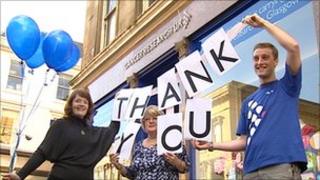 A charity shop in Glasgow is hoping to trace a man who handed in a donation of £20,000 and left without saying a word.
The mystery benefactor handed an envelope containing a banker's draft to a volunteer at the Sauchiehall Street branch of Cancer Research UK.
It is believed to be the biggest gift received at any Cancer Research shop in the UK and workers at the store now want to trace him to say thanks.
Staff put a "Thank-you" banner in the window to mark their appreciation.
Volunteer Alexandra MacMillan, 48, said the man came in, smiled and handed the envelope to her.
She said that before she could reply he had left.
Shop Manager Michelle Fulton said he was not one of their regular customers.
She said: "I have been working at this shop for 15 years now, and this is far and away the biggest donation we have ever received."
"Occasionally we are given a nice designer dress, or a cheque for a couple of hundred pounds, but this was in a different league altogether."
The donation was handed over about three weeks ago.
Other big donations include "the first ever" Beano annual which was given to a shop in St Andrews earlier this year and a rare Hermes bag handed into a shop in Pitlochry.