Population boost for tiny Scottish island of Colonsay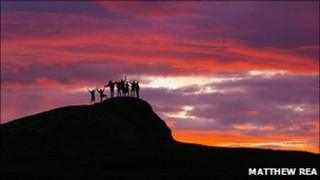 A crofting scheme is set to give a 5% population boost to a small Scottish island which is home to 100 people.
Five new crofts have been created on Colonsay, Argyll, in a bid to attract younger families.
The island's community development company said tenants had been found for four of the crofts.
The new arrivals - which include an Edinburgh family and Yorkshire couple - will build their own homes and, it is hoped, run local businesses.
The initiative - which involved setting aside five stretches of bare land - was set up by Colonsay Development Group (CDG).
Representative, Andrew MacGregor, said the aim was to get more younger people to make Colonsay their permanent home.
"It will create more economic activity with whatever schemes they come up with to make a living," he said.
"The successful applicants are mainly in their thirties - the eldest is 40 - so we have really achieved what we set out to do."
He said that finding suitable tenants had taken longer than anticipated, largely due to the credit crunch, which meant that some interested parties were unable to finance the move.
But now the legal paperwork is under way for four of the crofts, with the first Minute of Agreement already signed and business plans submitted and accepted.
Mr MacGregor added: "We have really achieved all that we set out to do, the oldest applicant still has 25 to 30 years of active working life ahead - and more in the other cases."
Two of the crofts will bring in five new people - a family of three from Edinburgh and a couple from West Yorkshire.
The other two crofts will allow people who are currently working on the island - and living in temporary accommodation - to put down permanent roots on Colonsay.
Car delivery driver, Phil Jones, and IT manager Carrie Seymour, from West Yorkshire, were amongst the successful applicants who chose to make the switch in lifestyles.
'Extra isolation'
The couple are looking forward to their new life as eco-crofters.
Miss Seymour said: "There will be that little bit of extra isolation from my family - and there won't be any take-away meals on Colonsay - but I was brought up on a small holding and it's time to get out of the rat race.
"We have always wanted to move to Scotland, every year since 1997 we have been up there.
"We went on holiday to Colonsay in 2005 and went there again last year - and then the crofting opportunity came up."
The couple, who hope to move to the island next year, intend to build an eco house, incorporating straw bales, photovoltaic solar style panels and a foundation of used rubber tyres.
Mr Jones said: "We are very keen gardeners and we are going to make use of the land. We will grow a few cash crops and we are going to get some livestock, chickens, goats and sheep.
"We will have to get some income from doing all kinds of things, it's the only way you can survive in a place like this.
"This is the most life-changing episode that has ever happened to us."