Zumba class in Ravenscraig claims world record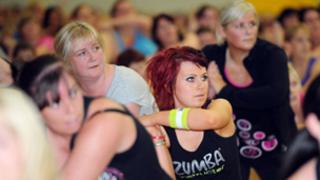 A sports centre in North Lanarkshire is claiming to have set a new world record for the biggest ever Zumba class.
Organisers at Ravenscraig Regional Sports Facility said 836 people took part in the class on Sunday.
The Guinness Book of Records is now set to rule whether the attempt beats the previous record of 575, thought to be held by Dalhousie University in Canada.
Zumba is a dance fitness programme which combines Latin and international music with dance.
Melanie Menzies, health and fitness manager with North Lanarkshire Leisure, organised the event at Ravenscraig.
She said: "It was such a great atmosphere, the whole place was absolutely buzzing.
"We think the previous record is 575 people so we've taken it to a whole new level."