Fresh talks agreed in Tunnock's dispute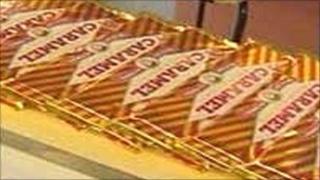 Workers and management embroiled in a pay dispute at the Tunnock's bakery in Uddingston have agreed to return to the conciliation service, Acas.
The announcement comes after staff turned down the offer of a 2% pay increase.
The 360 workers at the plant staged two one-day strikes in protest at a previous 1% pay offer last month.
The plant, founded in 1850, is best known for producing confections such as Teacakes and Caramel Wafers.
Managing director Boyd Tunnock said the family firm had demonstrated its commitment to staff, with secure and stable jobs.
'Obviously disappointed'
The average length of service of the workers is 16 years.
Basic pay is understood to be £7 per hour, although staff have been angered by a sharp increase in boardroom pay.
Mr Tunnock said the company was "obviously disappointed" in the strike ballot result: "Our staff's level of pay is in line with, or above, our local competitors and they also enjoy a generous benefits package," he said.
"In order to secure long-term stability and growth, in the last two years, £5.8m has been invested in plant and machinery to ensure our competitiveness."
A spokeswoman for Tunnock's said that, so far, there had been no major impact on supply to shops.
The Unite officials handling the dispute for the workers were unavailable for comment.