Air rage attack man fined £2,000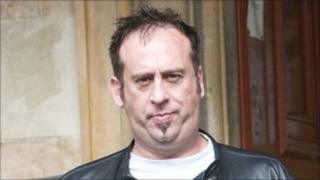 A violent passenger who caused mayhem on an Easyjet flight from Glasgow to Alicante has been fined £2,000.
Colin Coats, 40, from Glasgow, was convicted of assaulting a cabin crew member and threatening passengers on the plane in September 2009.
Paisley Sheriff Court heard how he told one woman he would burn her house down and kill her children.
Coats was told that he would have been jailed if the incident had happened while the plane was in the air.
The court heard how Coats had been moved to the rear of the plane after an earlier incident in which a fellow passenger was punched on the face.
When he learned that police had been summoned to board the aircraft on its arrival at Alicante in Spain, he told steward George Barron that he would kill him if police boarded the plane.
Fire threat
When officers entered the cabin, Coats kicked the steward, began clawing at his face and neck and striking him on the back.
Passengers who had previously been advised to stay seated until Coats could be dealt with, were desperate to get off the aircraft when they saw what had happened.
Spanish police had to pin him horizontally at the back of the cabin to try to force him to calm down.
Seconds later he turned his attention to a female passenger seated nearby, swore at her and said he would burn her house down.
He asked if she had children then said he would burn them too.
The court also heard how Coats said to one passenger that he would throw acid in their face.
Coats had denied conducting himself in a disorderly manner, uttering threats of violence and committing a breach of the peace by placing others in a state of fear and alarm, and assaulting Mr Barron.
He claimed he had no recollection of the flight and produced a friend who claimed in court that Coats's drink may have been spiked with Acid (powerful hallucinogenic drug LSD) earlier that day in Glasgow.
Sheriff Neil Douglas rejected this and imposed fines on Coats totalling £2,000.