Probation for sex charge N-Dubz drummer Fagan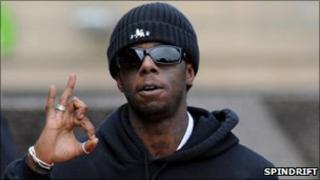 The former drummer of award-winning band N-Dubz has been given six months probation for sexually assaulting two women in Glasgow.
Aaron Fagan was found guilty of groping the women at Strathclyde University students' union on 1 October last year.
At Glasgow Sheriff Court, the 25-year-old was also placed on the sex offenders register for six months.
The court was told that Fagan had been sacked from the band after his conviction in August.
The drummer's defence advocate Paul McBride told the court his client was now struggling to find work.
Mr McBride said: "As a result of the conviction he's no longer with the band that he had been with for a long period of time.
"He has also had great difficulty obtaining any work as a drummer as a result of the conviction.
"He was earning up to £3,000 a week but that has now come to an abrupt end and he's now applying for state benefits."
The court earlier heard that the band were performing at the John Street union after the Mobo awards which were held in Glasgow.
One of his victims, aged 20, claimed that Fagan approached her after the concert and asked if she wanted to go to an after-party.
She said Fagan put his arms over their shoulders and started leading them up the stairway at the students union.
It was here that Fagan touched both of the women's bottoms and grabbed at one of the woman's breasts.
The girls told the court that a short time later they told Fagan that they were not going to the after-party and left.
They then told a bouncer what had happened to them and the police were called.
Fagan was arrested at the union just hours after he and bandmates Dappy, Fazer and Tulisa picked up awards for best album and best UK act at the Mobo awards.
Discrimination claim
The drummer also gave evidence at the trial and told the court he was like "honey to a swarm of bees" when it comes to female fans.
He claimed that he had been touring all over Europe for years and would not have suddenly done something like this in Glasgow which is "hardly a haven for models".
After being found guilty, Fagan claimed that he had been racially discriminated against but Mr McBride told the court his client had spoken out of turn in the heat of the moment.
Mr McBride added: "He fully withdraws those statements."
Sentencing the musician, Sheriff Joanna Johnston said: "Your behaviour that night towards these girls was wholly unacceptable. You clearly shocked and upset those young women.
"However, I have taken into account the fact that you did not persist when they asked you to stop and your actions fall to the lower end of this sort of offending."