Roof theft closes cancer centre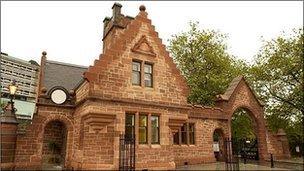 A support centre for cancer patients in Glasgow has been closed temporarily due to flooding after lead was stolen from its roof.
Thieves are believed to have struck at Maggie's Cancer Caring Centre, in the city's Dumbarton Road, at the weekend.
Heavy rain on Tuesday caused extensive damage to a sitting room area and power failed after water got into cables.
Strathclyde Police are investigating the theft which caused thousands of pounds worth of damage.
The centre was closed on Tuesday and Wednesday while staff attended training days.
A workman from Glasgow University noticed the state of the roof and reported it to the police.
The university estates department carried out a temporary repair to the roof, while the domestic cleaners worked throughout Wednesday to clean up the rain water and shampoo furniture.
An inspection revealed that furniture, carpets and walls were water damaged from heavy rainfall, and the building's electrics were down.
Maggie's Glasgow Centre head, Gillian Hailstones, said: "We are saddened that this has resulted in us having to close our doors and not be able to deliver our programme of support to people affected by cancer across the west coast of Scotland.
"Approximately 30-40 people a day visit the centre to receive vital emotional and practical support and we are working hard to get the doors open as soon as possible for those people.
"We are delighted by the kindness from our neighbours at the University of Glasgow, who stepped in during our absence to avert further damage and start the clear-up for us.
"We are optimistic that we will be covered by insurance and we are working hard to be back on our feet as soon as possible."
Staff at the centre, which opened in 2002, hope to reopen on Monday.
Sgt Neil Duncan, of Strathclyde Police, described the theft of the lead as "absolutely disgusting".
"The repairs to the roof will run to thousands of pounds and the damage to the inside of the building runs to several hundreds of pounds, money which had already been donated by the supports of Maggie's Centres across Glasgow and the west of Scotland.
"The centre has had to close for three days as a result of this appalling theft, leaving over 100 families who need the care and support of Maggie's Centre at a particularly difficult time in their lives having to make alternative arrangements.
"I would appeal to anyone who saw any thing suspicious at the Maggie's Centre, which is located at the entrance to the Western Infirmary in Glasgow last weekend, to contact me.
"I would also ask that anyone who works in the scrap metal industry who has been offered lead roofing panels in the last few days to get in touch."
Related Internet Links
The BBC is not responsible for the content of external sites.