Union and Tunnock's agree deal to end pay dispute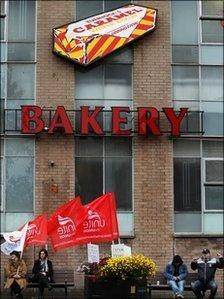 A pay dispute at the Tunnock's bakery in Uddingston could be over after the Unite union accepted an improved offer.
The 360 workers at the plant had staged two one-day strikes after rejecting a previous offer of 2%.
The deadlock looks to have been broken after management and the union returned to the conciliation service, Acas.
Details of the new offer, which is not yet known, will be recommended to Unite members at a meeting on Monday and be followed by a workplace ballot.
The plant, founded in 1850, is best known for producing confections such as Teacakes and Caramel Wafers.
The average length of service of the workers is 16 years.
Basic pay is understood to be £7 per hour, although staff had been angered by a sharp increase in boardroom pay.
Confirming the new offer on pay, Unite regional officer, Derek Ormston said: "The talks at Acas have been very constructive.
"I'm pleased that Tunnock's have finally tabled an offer which we can strongly recommend to our members."
Tunnock's managing director, Boyd Tunnock, said: "After having met with Acas today, we are pleased to have reached an agreement with Unite who are strongly recommending the offer."
Related Internet Links
The BBC is not responsible for the content of external sites.