Tommy Sheridan sacks legal team in perjury trial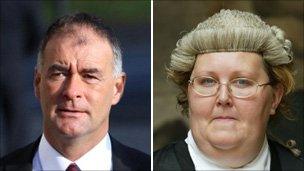 Tommy Sheridan has dismissed the QC defending him against perjury charges and will now represent himself for the remainder of the trial.
The former Scottish Socialist Party (SSP) MSP was being represented by Maggie Scott QC.
Judge Lord Bracadale has now adjourned the trial at the High Court in Glasgow until Thursday.
Mr Sheridan and his wife Gail, both 46, deny committing perjury during his successful defamation case in 2006.
The former MSP won £200,000 damages over claims about his private life in the News of the World.
Lord Bracadale told the jury of the news in what he described as a "sudden development".
The judge said: "I thank you for your patience. You will see Miss Scott and her junior counsel are no longer here.
"Mr Sheridan has instructed his solicitor to withdraw counsel instructions. Mr Sheridan will now conduct his own defence.
"An accused person is perfectly entitled to do so. He will continue to have the support of his solicitor who will render appropriate assistance.
The former politician had asked for some time to prepare himself for the case and the judge said this was a "reasonable" request.
Lord Bracadale adjourned the trial until Thursday when evidence is expected to resume.
This is not the first time the former MSP has parted company with his lawyers.
He sacked his legal team during the original defamation action, choosing instead to represent himself.
In the run up to the perjury case, Mr Sheridan also dismissed Donald Findlay QC, one of the country's most high-profile defence lawyers.
His decision to sack Miss Scott, who defended Lockerbie bomber Abdelbaset al-Megrahi, appears to indicate that he was unhappy with how she had handled evidence.
Mr Sheridan has, however, retained solicitor Aamer Anwar.
It is alleged that Mr Sheridan made false statements as a witness in his defamation action against the News of the World on 21 July 2006.
He also denies another charge of attempting to persuade a witness to commit perjury shortly before the 23-day legal action got under way.
Mrs Sheridan denies making false statements on 31 July 2006, after being sworn in as a witness in the civil jury trial at the Court of Session in Edinburgh.
The trial is due to last between two and three months and is expected to become the longest perjury case in Scottish legal history.
Related Internet Links
The BBC is not responsible for the content of external sites.