Two men jailed for gun murder bid in Glasgow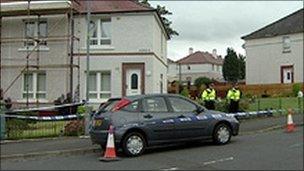 Two men have been jailed for shooting the brother of a notorious Scottish gangland figure at his Glasgow home.
Christopher Bailiff, 34, and James MacPherson, 43, admitted attempting to murder 48-year-old Eddie Boyd at his house in Pollok in September last year.
At the High Court in Edinburgh, Bailiff was jailed for 10 years and MacPherson was jailed for 13 years.
Mr Boyd's brother Stewart "Specky" Boyd was a major gangland figure, who was killed in a crash in Spain in 2003.
The court heard how Mr Boyd's partner and seven-year-old daughter were in the house when Bailiff and MacPherson burst in.
Five bullets hit Mr Boyd, severing his spine and causing other serious injuries. He now uses a wheelchair and will never walk again.
The family dog, Taz, was shot and killed after barking and growling at the men.
Following the shooting, Bailiff and MacPherson fled the scene in a silver BMW.
The car, which had false number plates, was found in flames.
During the police investigation it was found that 11 shots had been fired in the house from a 9mm pistol and a .32 calibre handgun - both of which had been fitted with silencers.
The court heard how Bailiff was caught because he had left a palm print on Mr Boyd's front door. MacPherson had also left a fingerprint there.
Judge Lord Brailsford jailed Bailiff for 10 years and MacPherson for 13 years because he had a worse criminal record.
Sentencing the pair, who are both from Glasgow, the judge said: "You forced entry into a person's house and a gun or guns were discharged causing very significant injury.
"He was permanently incapacitated and will be in a wheelchair for the rest of his life."
The judge said the sentences he had imposed took account of the fact that the men's admissions had spared Mr Boyd's partner and daughter from the ordeal of giving evidence.
Lord Brailsford added that, fortunately, the girl was in a bedroom and saw nothing, but the shooting had "a profound effect" on her.
Related Internet Links
The BBC is not responsible for the content of external sites.