Stepfather stab attacker jailed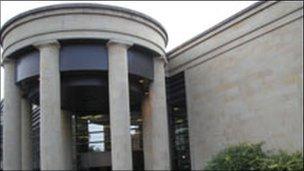 A woman who admitted repeatedly stabbing her stepfather in his bed has been jailed for four-and-a-half years.
Dawn Gilchrist, 31, attacked George Donnachie at his home in Drumchapel, Glasgow, in June after her mother said he had been "giving her the creeps".
The High Court in Glasgow heard she later told police Mr Donnachie "got what he deserved".
Judge Lord Bracadale ordered the mother-of-one to be supervised for a further three years on her release.
The attack happened after Mr Donnachie returned to his home in the early hours of 25 June after going out for a walk.
Sandra Donnachie, his wife and Gilchrist's mother, heard banging and shouted at him: "What are you playing at?"
When there was no answer, Mrs Donnachie left the property and got into her car.
Gilchrist later called her mother and asked why she was out at that time.
Mrs Donnachie claimed she needed some milk and that her husband was "giving her the creeps".
Gilchrist then went to her mother's house, let herself in, and attacked Mr Donnachie in his bed.
Jailing her, Lord Bracadale told Gilchrist that she had acted in a "frenzied" manner during a "very serious assault".
The judge said: "Far from showing remorse, you have told social workers that you wish you had killed him.
"You have a bad record of violent offences and have been assessed as a high risk of further offending and causing harm."
Related Internet Links
The BBC is not responsible for the content of external sites.