Rangers fans lose legal action against Dundee Utd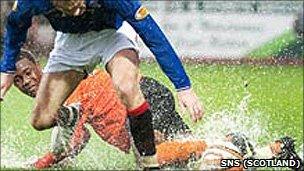 A Rangers supporters club has lost a legal action against Dundee United FC over an abandoned league fixture.
Nithsdale Loyal Supporters Club were seeking £800 after a water-logged pitch halted a match at Tannadice last year.
The clash was re-arranged but fans who had bought tickets for the original game were not offered refunds.
The supporters club was told it had no case as the contract to purchase tickets was between individuals and the football club.
The supporters club was seeking cash to refund half the money its members spent on 66 tickets for the SPL game at Tannadice against Rangers on 1 November 2009.
The match was abandoned at half-time after the pitch became waterlogged following torrential rain.
However, Rangers fans were not allowed entry into the re-scheduled fixture with their original tickets.
Instead, Dundee United charged a reduced price of £12 for the replay.
Following a two-day hearing at Dundee Sheriff Court, Sheriff Alistair Duff found in favour of Dundee United.
He said the club had "no title and interest" to launch a claim because the contract to purchase tickets was between individuals and the football club, not with the supporters club.
In his judgment, Sheriff Duff said all 66 members of the Nithsdale club had attended the first game - but it could not be established if any had gone to the rearranged match.
He also found the Nithsdale club liable for the expenses of the court action.
In a statement on the supporters club website, a spokesman for Nithsdale Loyal RSC said: "The Nithsdale Loyal are disappointed that we have lost our legal battle with Dundee United for justice over the disgusting treatment of fans regarding the abandoned game at Tannadice last season.
"The sheriff accepted that Dundee United FC had acted reasonably by giving a value of zero to the ticket stub for a game that did not complete, did not count for the league table, and that had to be replayed in full with another ticket purchased.
"This is truly staggering and basically says that there is nothing to stop clubs getting a game stopped by whatever reason and charging fans again for the game to be played out at a later date."
Derek Robertson, director of communications at Dundee United FC said: "Obviously we are pleased that the court has found in our favour on all counts in defending this action.
"This finding upholds the legal advice given to the club at the time.
"More importantly, the court has also found that the club had taken all factors into account and acted reasonably in dealing with the ticket arrangements for the rearranged game."
Related Internet Links
The BBC is not responsible for the content of external sites.