School toilets: Your comments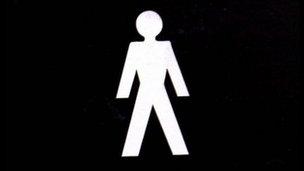 BBC News website readers share their thoughts:
My daughter has recently made herself ill with a kidney infection as she hates using the school loos so much and tries to hold on instead. She reports that the loos are inhabited by lesson skivers, smokers and hoards of girls preening themselves in front of the mirrors. Any request to get to the sink is met with derision and the preeners bang on the doors when girls are using the toilets and shout "we know what you're doing". Understandably off-putting, I agree, particularly if you're a young woman with a period to deal with or needs something more than just a wee. What does the school do? Nothing.
Louise Ward, Stotfold, Herts
I'm not surprised to read this. My nephew recently transferred to a different school because of the general behaviour of his previous one - older kids would hang around the toilets to bully the younger ones, and apparently there was never a teacher in sight. I don't see why either teachers or prefects (which all secondary schools should have) could not periodically walk into the toilets at break and lunch times to ensure this behaviour is eliminated. And I think those responsible should be suspended. The head should also warn pupils that for adults, hanging around gents' toilets waiting for little boys to come in is an arrestable offence! A little humiliation might just stop it.
Peter, Belfast, N Ireland
I left school over 20 years ago. Nothing has changed! I used to avoid the toilets and drink as little as possible during the day so I could make it home. The reasons? Exactly the same as all those given above.
All three of my children, aged between 27 and 15, have avoided using school toilets. They are dirty, smelly and not at all nice to use, let alone with the other pupils hanging around smoking and causing trouble. It has always worried me that they do not eat or drink at school to avoid needing to go. It's about time this was sorted out.
I went to school over 30 years ago and I clearly remember the toilets being cold and dirty, with never any supplies. I clearly remember it being a place for the rough girls to smoke and brag about their sexual activities.
JH, Portsmouth, Hampshire
Poor toilet conditions is a problem I bet most schools experience. Lack of toilet tissue is one of the biggest issues that I find appalling. It only takes a minute at break times for teachers or assistants to pop into them randomly to check all in order. Bullies and smokers would soon be deterred from these places by frequent spot-checks.
This is so true. I never used the toilets in the time I spent in secondary school and even primary school because they were extremely dirty. I would wait until I got home unless I was really desperate. Even when I did use the toilets it would only be for a number one. It's something that really needs to be looked at.
Having taken an adult education class taught at one of Cardiff's high schools recently, I was disgusted to find no toilet paper, no soap and no means of drying my partially washed hands. The hand dryer was broken and there were no paper towels. The floor was a big puddle, which must have come from a leak somewhere, and the cubicle I used didn't have a working lock. I've seen better equipped cattle barns. I'm not surprised that some pupils "hold it in". I certainly made sure that I never needed to go back again.
As a teacher I totally agree with this report, but the teachers' loos are in just as bad a condition. This is one of the reasons why our school needs re-building but unfortunately cancellation of BSF [BUilding Schools for the Future] funding has left us with these poor facilities. I would say that the threatening nature of the toilets can be reduced by toilets reserved for younger students, discreet cameras and regular checks by supervisors.
John Taggart, Tamworth, Staffs
This has long been a concern of mine, both as a parent and as a teacher. School toilets too often become no-go areas even in otherwise decent schools. I feel very strongly that being able to go to the toilet without fear of intimidation or contamination should be a right for every school child.
My daughters went to a secondary school that had dedicated toilets for Year 7 (first year), but which were occupied every break and lunchtime by smokers. The staff knew all about this. Both my daughters avoided going to the toilet because of this.