Ex-MSP 'took bets' on Sheridan swinger claim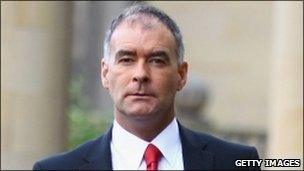 The former MSP Rosie Kane has told the Sheridan perjury trial she went around the Scottish parliament taking bets on the identity of the MSP named in a newspaper as a swinger.
Miss Kane told the court she would be offering odds of 500-1 on it being Tory leader Annabel Goldie.
She was taken aside and told it was Tommy Sheridan and she was to shut up.
The former Scottish Socialist Party (SSP) leader, and his wife Gail, both 46, are on trial accused of perjury.
They deny lying during his successful defamation case against the News of the World in 2006.
Mr Sheridan won £200,000 in damages after the newspaper printed allegations about his private life, claiming he was an adulterer who had visited a swingers' club.
After a police investigation, Mr and Mrs Sheridan were charged with perjury.
Miss Kane told the court she was disgusted when, as she claimed, he admitted to twice visiting a sex club.
She also said Mr Sheridan failed to challenge claims he had been involved in a hotel orgy when the allegation was made at an SSP committee meeting on 9 November 2004.
Miss Kane told the trial the SSP meeting on that day was "monstrous".
She added: "You could hear a pin drop."
Miss Kane said she had gone to the SSP meeting hoping Mr Sheridan would be able to say that it was all a huge mistake.
"When that never happened, I was sad and disappointed," she said. "I was worried for Gail because I knew more than her and I did not like that.
"I was scared next, because he could not see what needed to be done and was insisting on challenging and taking this through the courts."
Under cross-examination from Mr Sheridan, Rosie Kane denied being "a fantasist and a good actress".
Miss Kane claimed Mr Sheridan had "wangled" his defamation win over the News of the World in 2006.
Earlier in the trial, a witness denied being part of a plot to politically destroy the former MSP.
Joanne Harvie made the comments while being cross-examined by Mr Sheridan, who is defending himself at the High Court in Glasgow.
Mr Sheridan continued his cross-examination of Ms Harvie while standing at a lecturn in the dock.
She had earlier told the court she had heard him admit to visiting a swingers' club at a party meeting in November 2004.
During questioning, Ms Harvie told Sheridan: "I was never involved in any faction, in any plot that was out to get you."
Sheridan said to the journalist: "You were always part of the plot to politically do me in?"
Ms Harvie, 33, said: "No, I was not."
She also said she was not part of the "secret cabal" which became the United Left and the "anti-Tommy" faction.
Ms Harvie told the court she had heard Mr Sheridan admit to a meeting that he had visited a sex club twice.
The witness said she did not lie when she gave evidence to the defamation case which Mr Sheridan won in 2006 and was not lying in court.
She also told the court she had heard discussion of a gun at the November 2004 meeting but did not recall mention of an orgy in a Glasgow hotel.
It is alleged that Mr Sheridan made false statements as a witness in his defamation action against the News of the World on 21 July 2006.
He also denies another charge of attempting to persuade a witness to commit perjury shortly before the 23-day legal action got under way.
Mrs Sheridan denies making false statements on 31 July 2006, after being sworn in as a witness in the civil jury trial at the Court of Session in Edinburgh.
The trial is due to last between two and three months and is expected to become the longest perjury case in Scottish legal history.
Related Internet Links
The BBC is not responsible for the content of external sites.