Killer's letter 'claimed murder accused was innocent'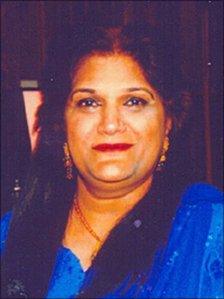 A convicted killer has admitted writing letters in prison for the man accused of murdering Asian radio presenter, Nasim Jamil.
Roshan Dantis told the High Court in Glasgow that he wrote letters for Khalid Sarwar - one of which claimed the 29-year-old was innocent.
A shorter letter contained instructions on how to e-mail this information to a solicitor, and a picture of a weapon.
Mr Sarwar denies murdering Mrs Jamil in her Glasgow flat in December 2009.
Dantis is serving 24 years for murdering and dismembering 23-year-old Nepalese student, Khusbu Shah, in Glasgow in June 2009.
He told the court that he was shown a lengthy document by Mr Sarwar in Barlinnie prison and said that he summarised the contents into a three-page letter.
Dantis, 31, was shown a lengthy letter by Dorothy Bain QC and he told her: "That is what he showed me. I said I couldn't understand it and I asked if he wanted it written better."
In evidence, Dantis also admitted writing a short note which gave instructions about sending the three-page letter and a photograph of a weapon to Glasgow lawyers Carr & Company.
When asked by Ms Bain who he had written this note for, Dantis replied that he was often asked by people in prison to write letters for them.
He said he could not remember for definite who asked him to write it, but added: "It could be Mr Sarwar."
When asked by Ms Bain: "You did all this for Mr Sarwar, didn't you?" Dantis replied: "Yes for Mr Sarwar. It wasn't for any benefit of me."
The abridged letter written by Dantis claims that Mr Sarwar is innocent and three men are responsible for Mrs Jamil's murder.
Dantis told the court that he wrote it from what he was told by Mr Sarwar.
It begins: "I don't want to identify myself right now for safety or myself and my family. I and another two men are responsible for the murder of Mrs Jamel, who is Omar Jamel's mother.
"The other two men were Safraz and Aamer, both are from Govan. I have wanted to confess but am scared for my family safety.
The letter goes on to describe the killing of Mrs Jamil saying: "Safy hit her with a hammer he got from his bag.
"I grabbed kitchen knife and started stabbing her on neck, arms, legs, stomach and she was still alive."
The letter states that Mrs Jamil was hit with a hammer and had liquid poured into her mouth.
The condensed letter also said that Mr Sarwar, who witnessed the attack, was innocent.
The jury heard that Dantis was convicted in January this year of murdering Mrs Shah and cutting off her head and hands with a cleaver.
Under cross-examination, defence counsel for Mr Sarwar, Thomas Ross, asked Dantis if the jury at his own murder trial had not thought him a reliable witness why should another jury.
Dantis replied that he had not wanted to come to court to give evidence.
"I never thought this letter would be sent to anyone," he said.
The court was earlier told the letter was sent to his former cell mate, Christopher Millar, at an address in Clydebank.
Dantis denied sending the letter to Mr Millar and claimed that he had stolen documents from the cell they shared.
He was asked by Mr Ross who had prepared the longer letter, and replied: "Who would have known these details other than Mr Sarwar.
Dantis added: "He (Sarwar) showed me this and then he said: 'I'll just speak about it.'
"I wrote it down and handed it over to him. It's not a confession. This is what he thinks happened. He was a witness to the whole thing."
Mr Sarwar is accused of murdering Mrs Jamil by repeatedly striking her on the head and body with a hammer and screwdriver or similar instrument and hitting her on the head with a bottle and a piece of glass on 9 December 2009.
He is also charged with stealing three knives, a quantity of clothing, a light bulb, two phone, keys, gloves, a watch, a bracelet, a necklace, a pair of earrings, a handbag and a sum of money.
Mr Sarwar is further accused of attempting to pervert the course of justice on 11 December 2009, by giving false information to police officers.
The trial before Lord Brodie continues.
Related Internet Links
The BBC is not responsible for the content of external sites.