Can 2014 Glasgow Games have a lasting legacy?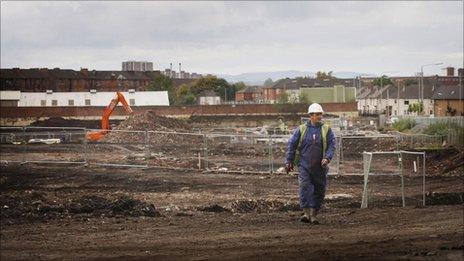 Over the past year, BBC Scotland's Gillian Sharpe has been asking children and young people in Glasgow for their thoughts on their community and what legacy they want the 2014 Commonwealth Games to leave for them.
On the site of what will be a roundabout on the Games site, a Glasgow youth group has been burying a time capsule containing details about their area - a community which is in the process of changing radically.
They jostled to get their face in a photo recording the moment and then two workmen were diverted from other duties to cover the box over in cement.
Among other things, it contains photographs and a special school T-shirt designed to give future generations an idea of what life in this particular area of Glasgow was like in 2010.
One of those involved in the project was 10-year-old Findlay.
"Hopefully it will be better in the future here," he said, "because there's graffiti everywhere and stuff.
"With all the construction it looks like a dump, there's muck everywhere and cranes and dust."
Although they are still four years away, he told me he was looking forward to the Commonwealth Games coming to the city.
His hope was that all the development surrounding them might help tidy his area up.
"The buildings and the shops are shut down," he said, "so I'd like them to get built again and get reopened."
Also watching the time capsule being covered over was 11-year-old Aaron.
He pointed to lots of good things about his area, such as the people, the clubs and football in the park, but then there are other bits which are not so good.
"There's old buildings, glass everywhere, old parks with nothing there," he said. "The graffiti, the gangs, the vandalism and stuff like that."
He called the Commonwealth Games a "brilliant opportunity".
But there was a bit of concern from others in the area about whether the development surrounding the games coming to the city might change things too much.
Eighteen-year-old, Iain, who is a local youth worker, said his biggest fear was that local people who are "passionate" about the area would be "shipped out and other people will come in and the area won't be the same."
Glasgow has known since November 2007 that it was to host the 2014 Commonwealth Games.
The city council now speaks of a "once-in-a-generation opportunity to transform Glasgow socially, economically and environmentally," while the Scottish government's legacy aspirations are set out in four broad themes, titled; active, connected, sustainable and flourishing.
But from his particular area of Glasgow, 16-year-old Byron told me he was not really convinced that any changes would touch him personally.
He said: "I remember there was the bid for who was going to get it and Glasgow won, but I'm not too sure what they are. I think they'll be good for the city because it's bringing something big to it.
"I don't know if I'll even watch them or not. I don't see me having anything to do with them or changing anything for me."
But other young people have pinned a good deal of hope on the games being a way to change things.
The Scotstoun campus in the west end of Glasgow will be the venue for the Games squash and table tennis competitions.
When I visit, youngsters from across Scotland have gathered to enjoy a range of sports.
"An event like this will be the spark that will set things off, because it is inspiring," said 16-year-old Cassie.
She is one of a group of "youth legacy ambassadors" appointed by the youth information agency, Young Scot.
Over the next four years, it is working in partnership with the Scottish government to help young people themselves deliver a youth legacy from the games.
"It is sort of like a new leaf for Glasgow," she told me.
"There's a bit of a buzz about this that I've not really seen before, maybe other generations have seen this sort of thing happening, but I've not.
"The legacy," she added "will prove to people that Glasgow is a city that has a lot going for it."
"Generation Games" is broadcast on BBC Radio Scotland on Sunday at 1031 BST.
Related Internet Links
The BBC is not responsible for the content of external sites.