Paisley-based haulier reports big profits fall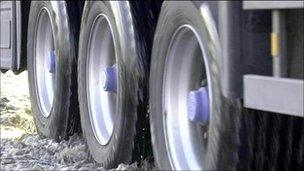 The recession last year took a heavy toll on profits for Scotland's largest haulier, the Malcolm Group.
The Paisley-based logistics and construction services company saw pre-tax profits fall from £5.4m to £2.4m for the year to 31 January.
Turnover was down £179m, compared to the previous year figure of £208m.
The firm saw a sharp decline in demand for its construction services division, which specialises in excavation, waste handling and outdoor leisure pitches.
The company has taken steps to "right-size" that part of the business, while the construction industry faces continuing severe problems.
The Malcolm Group, which employs 1,600 staff, also moved to cut debt from £24m to £18m, while spending more than £10m on capital, giving it some opportunity to seize acquisition opportunities.
Commenting on the results, chief executive Andrew Malcolm said they reflected "the very challenging conditions experienced by the group during the year", but he argued that profits were "very creditable given the challenging trading conditions during the year."
He added: "Going into 2010, activity levels in the logistics division in the first few months are well ahead of the same period in 2009, which augurs well.
"The construction services division continues at lower activity levels than previous years, reflecting our strategic decision to right-size the business."
Related Internet Links
The BBC is not responsible for the content of external sites.