Sheridan accuses ex-colleague of 'fantasy and smear'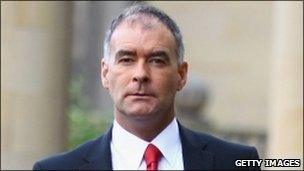 Former MSP Tommy Sheridan has accused an ex-colleague of "fantasy and smear" during his perjury trial at the High Court in Glasgow.
Mr Sheridan, who is defending himself, made the claim while continuing to cross-examine Rosie Kane, also a former Scottish Socialist Party (SSP) MSP.
The 46-year-old and his wife Gail, also 46, are on trial accused of perjury.
They deny lying during his successful defamation case against the News of the World in 2006.
Mr Sheridan won £200,000 in damages after the newspaper printed allegations about his private life, claiming he was an adulterer who had visited a swingers club.
After a police investigation, Mr and Mrs Sheridan were charged with perjury.
The trial had previously heard from several of Mr Sheridan's former SSP colleagues, who have said they witnessed him admitting to attending a swingers club.
Ms Kane previously told the court she was disgusted when, as she claimed, Mr Sheridan admitted to twice visiting a sex club.
She also said that he failed to challenge claims he had been involved in a hotel orgy when the allegation was made at an SSP committee meeting on 9 November 2004.
During cross-examination on Monday, Mr Sheridan accused Ms Kane of "making up" stories about an alleged affair between himself and another party member in Aberdeen.
The News of the World printed allegations of a "four-in-a-bed orgy" involving Sheridan and Fiona McGuire on 14 and 21 November 2004.
The trial, at the High Court in Glasgow, previously heard how Ms McGuire took an overdose following the publication of the story.
But Ms Kane told police in 2006 that she had spoken to Ms McGuire's former lover, Duncan Rowan, who told her 'Tommy had taken his girlfriend away'.
Mr Sheridan told Miss Kane: "Duncan Rowan never told you 'Tommy has taken his girlfriend away'. You made that up to make me look even worse.
"It's another example of the fantasy and smear you have been producing for years.
"You have lied throughout your testimony."
But Ms Kane told him: "There is no way of making you look worse than you already look.
"I never lied then and I'm not lying now. You'll have to forgive me if I can't remember every dot and comma, but the overriding truth remains the overriding truth."
Ms Kane said Mr Sheridan exhibited "kamikaze" tendencies and had been on a "course of destruction" since the newspaper article was published in 2004.
She said: "Your ego was on the rampage. I saw a side of you I never knew existed and I see it again here today.
"You were on a course of destruction. You were a kamikaze then and you still are.
"I'm disgusted that your wife is in this situation. You should have protected her."
Mr Sheridan accused Ms Kane of lying during the 2006 defamation action to "to bring me down" and lying during the current hearing.
He said: "Only this time it's not my reputation on the line - it's the liberty of me and my wife, and quite frankly, you should be ashamed of the lies you have told in this court."
The trial later heard from ex-SSP MSP Colin Fox, who had earlier given evidence, but was recalled for Mr Sheridan to question.
Mr Sheridan referred Mr Fox, who succeeded him as party leader, to minutes said to have been taken at the meeting where he allegedly admitted visiting a sex club.
Mr Sheridan asked did he see SSP member Barbara Scott's note of what took place.
Mr Fox: "Probably - she was the minute secretary after all."
Mr Sheridan then put to Mr Fox that at the defamation case in 2006, he claimed he did not think minutes had been taken.
Mr Fox said he did not recall saying that.
Mr Sheridan then asked: "Did you lie two weeks ago at this trial or did you lie four years ago?"
He replied: "I do not lie, Mr Sheridan. I leave the lying up to you."
Mr Fox had earlier described the 9 November meeting as the party's "9/11" following Mr Sheridan's alleged admissions.
Mr Sheridan said there would be SSP members whose view of what happened that evening would "diametrically oppose" Mr Fox's claims.
Mr Fox said the others would be "grievously mistaken".
The ex-Lothians MSP added that there were some people who would say "black is white" for Mr Sheridan.
He went on: "They are loyal to you and you have walked all over them for their loyalty. My loyalty is the truth unlike yourself."
The court again heard about a meeting at an Edinburgh coffee in June 2006 where it is claimed Mr Sheridan asked Mr Fox to state minutes of the 9 November meeting were false.
Mr Sheridan asked: "If I was to put to you that I did not meet you that morning, you would dispute that. You are absolutely sure about that?"
Mr Fox answered: "As sure as I can be."
Mr Sheridan was given permission by the trial judge, Lord Bracadale, to come out of the dock to cross-examine witnesses.
He told the jury he had listened to submissions from Mr Sheridan and had decided to let him use the same lectern used by the advocate depute Alex Prentice QC.
It is alleged that Mr Sheridan made false statements as a witness in his defamation action against the News of the World on 21 July 2006.
He also denies another charge of attempting to persuade a witness to commit perjury shortly before the 23-day legal action got under way.
Mrs Sheridan denies making false statements on 31 July 2006, after being sworn in as a witness in the civil jury trial at the Court of Session in Edinburgh.
The trial is due to last between two and three months and is expected to become the longest perjury case in Scottish legal history.
Related Internet Links
The BBC is not responsible for the content of external sites.