'I'll take the pain if it helps me feel better'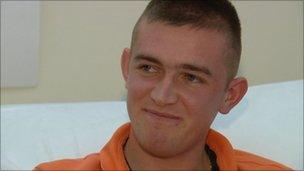 For 18 months Calum Elliot thought he had epilepsy.
"I was still taking turns with the tablets though, so they obviously weren't working," he said.
Eight weeks ago, the 21-year-old was diagnosed with glioblastoma, an aggressive and incurable brain tumour.
"It was a shock," he said.
"I was gutted the first day because it's not something you'd ever expect to hear.
"The first day was obviously the hardest, I went to see my family and told my close friends about it."
Calum said he took the advice of loved ones and tried not to get upset about his diagnosis.
"They've all been brilliant with me, they told me to be strong," he said.
"And that's the way I should be - there's no reason to get upset because if I do I'm not going to achieve anything from it - I'm just going to make myself worse by thinking about it."
Calum is trying to stay positive and the fact that he is the first person to trial the new brain cancer drug IMA950 gives him cause for hope.
Doctors believe it could prolong the life of patients as well as improve their quality of life.
"The injections can sting for up to 10 minutes but I'll take the pain if it can help me get better," Calum said.
"I'm probably helping other people because they can see what I'm doing and if they are offered the chance they know what to expect because they've seen what I've gone through."
Calum's consultant at the Beatson, Dr Allan James, said the drug being trialled is seen not a cure for brain cancer, but he hopes it will be a major step forward in treating the disease.
He said the drug works to help the body help itself, by training the immune system to recognise, target and destroy the unhealthy cells that make up brain tumours.
"We're hoping it's an incremental step forward in helping us to control the brain tumours in many more patients and allow them to live as normal a life as possible, for much longer than they currently do."
Despite undergoing a course of radiotherapy, Calum tries to keep his life as close as possible to what it was like before his diagnosis.
"When I first heard about it, I got paranoid that people were going to think of me differently," he said.
"But when my close friends come and see me you wouldn't think there was anything wrong with me. To them, I'm still the wee annoying guy."
Related Internet Links
The BBC is not responsible for the content of external sites.