Gartnavel Hospital ward shut after C.diff patients die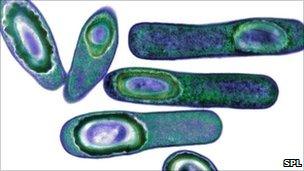 A ward at a Glasgow hospital has been closed to new patients after the deaths of two people with the C.diff bug.
NHS Greater Glasgow and Clyde confirmed that higher than expected cases of the potentially fatal bacteria were found at Gartnavel General Hospital.
In the first case the death was not related to C.diff and in the second, tests are still to be carried out.
Two further patients were confirmed as having C.diff, but are now improving and a fifth is still showing symptoms.
Health bosses said a 78-year-old who died had been suffering from serious underlying medical problems and their death was not related to C.diff.
The second patient, aged 76, had been recently transferred from Drumchapel Hospital, but it was unclear at this stage whether having C.diff had played a part in their death.
A post-mortem examination is yet to be carried out.
Dr Craig Williams, chair of the outbreak control team, said: "As soon as our monitoring systems identified an increase in the levels of C.diff on the ward immediate action was taken.
"All appropriate infection control measures are in place."
Related Internet Links
The BBC is not responsible for the content of external sites.