Appeal bid fails for Ayrshire rapist and murderer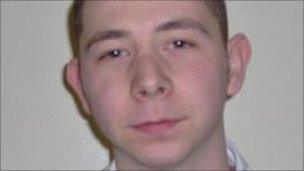 A convicted sex offender has lost an appeal against a minimum 32-year jail term for raping and murdering a 10-year-old girl and murdering her mother.
Thomas Smith, 27, killed Diane Fallon, 43, and her daughter Holly, in Cronberry, Ayrshire, in March 2009.
At the Court of Criminal Appeal in Edinburgh, Smith's lawyer argued he should be eligible for parole sooner.
Lord Carloway, sitting with Lord Nimmo Smith, refused and branded Smith's crimes "grave and abominable".
Smith, who was previously jailed for six months for an indecent assault on a child in England, was a neighbour of Ms Fallon and her daughter when he murdered them.
Ms Fallon was brutally sexually assaulted and her daughter raped before having their necks compressed and being strangled with a ligature. The victims bodies were then dumped by Smith.
Less than two weeks after killing the mother and daughter, Smith spoke to his father and told him he had "accidentally" murdered them.
His father told him to leave his house and hand himself into police then contacted the force.
Smith later told police he had put Holly's body under a bridge outside Lugar and put rocks and bricks on top and disposed of her mother's corpse in undergrowth near Craigens.
When the victims' bodies were found Ms Fallon was found to have suffered a fractured skull and pelvis, broken ribs and multiple fractures to the cartilage and bones in her throat.
She was also found to have sustained injuries consistent with a forcible sexual assault prior to her death.
Jailing Smith for life at the High Court in Glasgow, Judge Lord Turnbull told him: "You have set a benchmark of depravity below which it is difficult to imagine any other human being sinking."
The judge said he should serve at least 32 years before being eligible for parole.
Smith challenged this, however, on the grounds that the sentence was "too high".
Lord Carloway, sitting with Lord Nimmo Smith, said: "There can be no doubt that the murders of Diane Fallon and her 10-year-old daughter, Holly, were grave and abominable crimes.
"They were also accompanied by sexual assaults of a horrific nature."
Lord Carloway said Smith's criminal conduct had to be treated as "quite exceptional" and required a minimum term well above that imposed even in cases involving multiple death.
He said that full reasons would be given for the appeal court decision in writing later.
Related Internet Links
The BBC is not responsible for the content of external sites.