Tommy Sheridan accuses witness Katrine Trolle of lying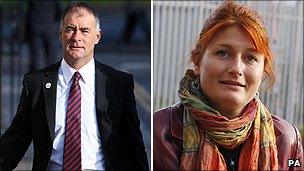 Tommy Sheridan has accused a former colleague who claimed she had a sexual relationship with him of being a "conscious liar".
Katrine Trolle has told the perjury trial that the former MSP had sexual encounters with her, including group sex at a swingers' club in Manchester.
During cross examination, Mr Sheridan said Ms Trolle had made up the stories.
Mr Sheridan and his wife Gail deny lying in his successful defamation case against the News of the World in 2006.
The former leader of the Scottish Socialist Party (SSP) won £200,000 in damages after the newspaper printed allegations about his private life, claiming he was an adulterer who had visited a swingers' club.
After a police investigation, Mr and Mrs Sheridan - both 46 - were charged with perjury.
The indictment against Mr Sheridan contains the charge that he had lied about having sexual relations with Ms Trolle during his defamation case.
Ms Trolle gave evidence on Tuesday claiming that the former politician had sex with her on numerous occasions between 2000 and 2004.
Mr Sheridan, who is representing himself after parting company with his QC Maggie Scott, accused the former party member of "co-operating" with the News of the World before the 2006 libel action.
He also asked her if she had been "coached" by the police before she gave evidence.
Ms Trolle said she had been visited by police, a representative of the procurator fiscal and the News of the World's lawyers, but said she had not been told what to say.
Mr Sheridan said: "You and whoever you were working with from the News of the World made up the house visit stories and the sex with me within weeks of meeting, a threesome within a month to lend weight to the swingers' yarn."
Ms Trolle denied she had lied, saying: "What would I have gained from working with or colluding with the News of the World?"
He described her allegations as a "downright lie".
Ms Trolle, an occupational therapist who is originally from Denmark, replied: "It is not, Tommy Sheridan. We were at the club together.
"If it was up to me I would never, ever have gone to court with this at all."
Ms Trolle was asked about apparent "inconsistencies" between her testimony in 2006, and the evidence she gave the trial on Tuesday.
These included not mentioning that Gail Sheridan had been at a Christmas party when she and Mr Sheridan allegedly first had sex.
Ms Trolle said it was difficult to give evidence in her second language, and that she found the experience of going to court difficult.
She said: "It's very, very stressful having to talk about your private and sexual life in front of a courtroom full of people."
Mr Sheridan replied: "It's also very stressful having to sit and listen to those types of conversations, but we are trying to establish the truth."
Ms Trolle glanced at him and replied: "Yes, we are, Tommy, and I think the important thing is whether we had sex or not.
"I was at your house and we had sex, and on a few other occasions. We were at the club together. They are not stories."
Ms Trolle told the court on Tuesday that she had noticed a sunbed in the Sheridans' house when she visited, but he claimed they did not own one.
Mr Sheridan also produced his wife's diaries, detailing several visits to a tanning salon at the same time that Ms Trolle said she had had sex with him.
He also said that despite Ms Trolle referring to Andrew McFarlane as Sheridan's "brother-in-law", he did not marry until two years after the alleged threesome took place.
Ms Trolle said she thought Sheridan was dwelling on "unimportant matters".
Mr Sheridan asked her if she thought it was "unimportant to give details or explanations".
She said: "I'm not talking about the court case, or the details. I'm talking about what we did."
Ms Trolle also added that she had not been offered, or taken money from the News of the World in return for her story.
Before beginning his cross-examination, Mr Sheridan apologised to the jury for shouting during his earlier questioning of witnesses.
He said: "Can I apologise to the jury for the volume of my voice to date? I have been chastised and I will try to keep my voice down."
It is alleged that Mr Sheridan made false statements as a witness in his defamation action against the News of the World on 21 July 2006.
He also denies another charge of attempting to persuade a witness to commit perjury shortly before the 23-day legal action got under way.
Mrs Sheridan denies making false statements on 31 July 2006, after being sworn in as a witness in the civil jury trial at the Court of Session in Edinburgh.
The trial is due to last between two and three months and is expected to become the longest perjury case in Scottish legal history.
Related Internet Links
The BBC is not responsible for the content of external sites.