South Lanarkshire finance chief retires after cash scam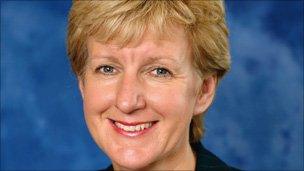 The head of finance at a Scottish council which was conned out of £102,000 is to leave her post next year, it has been confirmed.
Linda Hardie is to retire as executive director of finance and IT at South Lanarkshire Council's next April.
Her departure was announced one month after the authority said it paid cash to criminals, thought to be from west Africa, who had posed as suppliers.
The council then had to pay the same amount to the real suppliers.
Ms Hardie's departure was confirmed in a statement by Chief Executive Archie Strang at meeting of the council's executive committee on Wednesday.
Mr Strang said that a recent list of savings identified had not covered senior officers.
"The corporate management team knows that it can't put all these options forward and itself remain unchanged and has been clear that there must be proposals to reduce the scale of senior management for consideration as part of those options presented to members," he said.
"I've been discussing the future shape of the corporate management team and heads of service with each director.
"As part of those discussions, the executive director (finance and IT) will be retiring from April 2011."
BBC Scotland understands that Ms Hardie is the only senior official, to date, whose position has been axed.
Police were called in after details of the fraud came to light.
Forged documents were submitted to the council instructing a change of bank details.
These were then used to obtain fraudulent payment of £102,000.
This was not the only financial embarrassment to befall the authority.
Earlier this year, officials overestimated by about £40m the amount of savings needed to balance the council's budget.
The initial figure of £120m has since been revised down to about £80m.
As a result, the authority is expected to drop a school closure and merger scheme it announced with the aim of saving about £40m.
Related Internet Links
The BBC is not responsible for the content of external sites.