Man jailed for having murder gun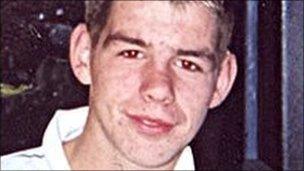 A man who fled abroad after admitting possessing a gun which was used in the fatal shooting of a teenager has been jailed for eight years.
Jeremy Curran, 27, retrieved the shotgun with killer Anthony Collins the morning after Andrew Devlin, 18, was shot outside a nightclub in Paisley.
The mortgage broker, from Glasgow, originally faced a murder charge and failed to turn up for trial last year.
He was returned to Scotland from Cyprus on a European arrest warrant.
At the original trial, Collins, 31, was convicted of murdering Mr Devlin and the attempted murder of Gerald O'Doherty who was believed to be the intended target.
The court heard how the teenage victim was with friends outside SuzyQ's on 3 August 2007 when a Peugeot drove up and shots were fired.
Mr Devlin later died in hospital from pellet wounds to his back and Mr O'Doherty, 28, was left fighting for his life.
Collins was jailed for life and sentenced to a minimum of 20 years' imprisonment for the murder.
Shortly after the shooting Collins went to a house in Renfrew and left the murder weapon overnight.
He returned the following morning with Curran and another man to retrieve the shotgun.
The weapon was eventually recovered on 20 June 2008 at the home of John Burke.
The 28-year-old was later jailed for eight years for possession of the gun and ammunition, but was acquitted of any involvement in the shooting.
On Thursday the High Court in Edinburgh heard how Curran, from Glasgow, admitted possessing the shotgun and was later charged with murder over his involvement.
His defence counsel Edward Targowski QC said there was "no evidence at all" against him on the murder charge he had faced but he had panicked ahead of his trial in July last year and fled.
Lord Emslie told him at the High Court in Edinburgh: "You have pled guilty to serious firearms offences on the morning after the weapon in question had been used in a fatal shooting in Paisley.
"Your involvement here comes very close in time to the fatal shooting and it was in the company of a man, Anthony Collins, who was subsequently convicted of murder."
The judge said he took into account that Curran's counsel had submitted that he did not actually know the gun was used as the murder weapon the night before.
But Lord Emslie added: "Any handling or possession of a prohibited weapon is a matter of which this court has to take a serious view and the same goes for failing to appear for a murder trial in the High Court."
He said he also noted that Curran was assessed as posing "a significant risk" of re-offending.
He jailed Curran for six years for firearms offences and a further two years for the failure to appear for trial.
Related Internet Links
The BBC is not responsible for the content of external sites.