Agony aunt killer Sarwar planned murder in detail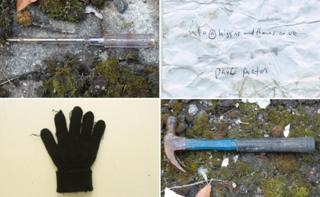 Agony aunt Nasim Jamil was brutally murdered in her own home by the man she regarded as a second son.
Khalid Sarwar had told Mrs Jamil and her family he was an orphan living in Stirling.
He claimed he was going to marry his dead brother's wife and bring up their children as his own.
In fact, he was married with three children and lived in Glasgow with his parents.
For five years Mrs Jamil was a much-loved agony aunt to the city's Asian community.
She worked as a presenter, known as Auntie, at Awaz FM.
On the day Mrs Jamil died, Sarwar had paid a visit to her Byres Road flat in Glasgow's west end.
It was the afternoon of 9 December, 2009.
They shared a lamb curry and sat and chatted about a job interview he had earlier that day.
Minutes later, he launched a frenzied attack on the woman he called "mum".
He smashed her skull 55 times with a claw hammer then, as she lay dying, repeatedly stabbed her with a screwdriver.
Mrs Jamil's skull, right cheekbone and lower jaw were shattered. She also suffered brain damage.
With his victim lying in a pool of blood on her floor kitchen, Sarwar rummaged through her flat, collecting jewellery and money.
A murder trial at the High Court in Glasgow heard that the radio presenter's fate was sealed because she refused to lend Sarwar £2,000.
Following the killing, he removed items from the scene, which he thought might have his DNA or fingerprints on them, including an Irn Bru bottle he drank from during his visit.
He later dumped all the items, including the murder weapon, at a derelict site at Hunter Street in Glasgow.
'Completely broken'
He had plotted the murder down to the smallest detail and thought he would never be caught.
However, in his haste to flee the flat, he left a black glove next to Mrs Jamil's body and dropped a bloodstained crumpled note.
Mrs Jamil's daughter, Nazia, found her mother lying dead when she arrived home from work.
During the trial, she told prosecutor Dorothy Bain QC: "We were very close, we were best friends we did everything together.
"She was my friend, my mother, she was my strength. Not to have her there any more has completely broken me as a person."
When later questioned by police, Sarwar claimed that when he left Mrs Jamil she was fine.
He said she had gone with him to her door and waved him off.
Following the murder, it emerged that Sarwar had paid off an £800 debt owed to a neighbour.
Forensics experts also proved that the glove found at Mrs Jamil's body was Sarwar's and had been dropped after the brutal assault.
They also said that writing on the crumpled note he had dropped was his.
Despite claiming in a letter - written on headed notepaper from Barlinnie Prison - that he was innocent and that Mrs Jamil was murdered by three Asian men, Sarwar was convicted of her murder.