Man guilty of killing Glasgow radio host Nasim Jamil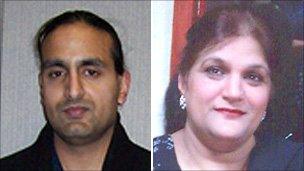 A man has been found guilty of killing an Asian radio presenter during a brutal attack at her flat in Glasgow.
Khalid Sarwar, 29, attacked 54-year-old Nasim Jamil - who he called mum - at her home in the city's Byres Road in December last year.
The High Court in Glasgow heard how he hit the Awaz FM agony aunt 55 times with a claw hammer and repeatedly stabbed her as she lay dying.
Sarwar was sentenced to life and told he must serve at least 20 years.
He was also convicted of attempting to pervert the course of justice and stealing three knives, a quantity of clothing, a light bulb, two phones, keys, gloves, a watch, a bracelet, a necklace, a pair of earrings, a handbag and a sum of money from Mrs Jamil's flat.
Sentencing him, judge Lord Brodie told Sarwar: "There is only one sentence I can impose, life imprisonment.
"It is difficult, if not impossible, to understand how you came to inflict such sustained and extreme violence on a lady who had shown you nothing but kindness.
"It was simply a dreadful thing which had an impact on the victim's family which will be profound and long-lasting."
Mrs Jamil became friendly with Sarwar through her son Omar who met the killer when they worked together at an Abbey National call centre.
Mr Jamil introduced Sarwar, who he described as his best friend, to his family and they all regarded him as a member of the family.
He often visited Mrs Jamil at her flat in Byres Road.
Sarwar had denied murdering her there on 9 December last year and claimed she was killed by three Asian men.
However, during the trial it emerged that he had left behind a glove and an incriminating piece of paper with his writing on it which was smeared with Mrs Jamil's blood.
Forensics experts also found his partial DNA mixed with Mrs Jamil's blood on a duvet.
One of the pieces of jewellery he stole - a gold-coloured bangle given to Mrs Jamil by a fellow presenter at Awaz FM - was found by police in a safe in Sarwar's bedroom at Circus Place, Glasgow.
Sarwar sat with his head bowed as the verdict was returned.
Mrs Jamil's daughter Nazia, 36, broke down in tears and had to be comforted by her brother Omar, 32, who shouted "yes" as the verdicts were announced.
In a statement released after the verdict, Mrs Jamil's family described her as their "backbone" and "best friend".
The statement said: "She was a bubbly character who was very caring, loving and understanding.
"She was someone who always had time for everyone and someone who will be very sorely and deeply missed. Life will never be the same without her.
"Khalid Sarwar took away from us the one most important person in our lives in a very cold and brutal way. Something we would not wish upon anyone.
"Although we will never get our mother back and she will never see her grandchildren, which is so heartbreaking, finally justice has been done.
"Our mother can rest in peace and we can finally try to rebuild our broken lives."
Speaking after the verdict, area procurator fiscal for Glasgow, Lesley Thomson, described Mrs Jamil as "a respected member of the Asian community within Glasgow".
"She had treated Khalid Sarwar like a son, allowing him into her home and providing both emotional and financial support to him over a number of months," she said.
"He repaid her kindness and generosity by entering her home and subjecting her to a brutal and sustained attack with a hammer and other weapons, and killing her."
In a statement, Awaz FM said: "We are pleased with the outcome of the case and our thoughts are with the Jamil family at this moment.
"We hope that this verdict will bring closure to this sad and tragic event and allow the Jamil family and Awaz FM to move on."
Related Internet Links
The BBC is not responsible for the content of external sites.