Scottish sausage skin firm Devro in pension move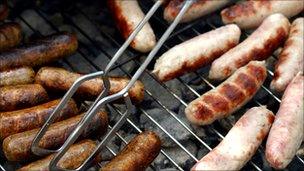 Sausage skin manufacturer Devro has moved to limit its future exposure to pension increases.
The Moodiesburn-based company said it had reached agreement with its scheme members to reduce pension liabilities by about £19m.
That sum equates to 8% of the group's gross pension liabilities as at 30 June.
The move was reported in an interim management statement covering the period from 1 July.
The agreement involves pensioners being offered a pension increase at a lower inflation adjustment in the future in exchange for a higher semi-fixed rate now.
Devro has also decided to keep its UK defined benefit scheme open but cap pension increases at 1%, rather than have them increase with salaries in the future.
In its interim statement, the company also revealed it was expecting to invest about £30m in manufacturing capacity across all of its sites this year to take advantage of growing demand for collagen casing products internationally.
Devro said it anticipated earnings for 2010 would be in line with management expectations.
It continued: "We are experiencing profitable growth in most of our major markets. Devro sales in developed markets continue to advance, supported by gut conversion, even though the markets have been quieter than H1 (first half of the year).
"Sales have increased strongly in developing countries except, as previously reported, in China."
In August, Devro announced an 86% rise in half year profits as global demand for its product continued to grow. It made just over £17m in the first six months of this year.
Related Internet Links
The BBC is not responsible for the content of external sites.