Probe into care home abuse claims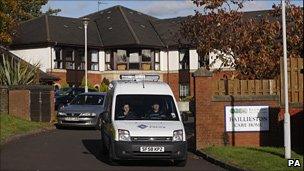 Police are investigating claims that an elderly woman was tied to a bed at a care home in Glasgow.
It had been reported that the 84-year-old woman was allegedly restrained at the Baillieston Care Home.
Five members of staff at the home have been suspended after concerns were raised about their conduct towards the woman and other residents.
The Care Commission, which regulates the sector, said it would decide whether to act after the police probe.
A spokeswoman for Strathclyde Police said: "We can confirm that we have been asked to investigate allegations of alleged abuse at a care home in Baillieston, Glasgow.
"Enquiries are at a very early stage at the moment. It looks as if this is a case for the Care Commissioner rather than Strathclyde Police, however, this may change as the investigation continues."
A spokesman for Four Seasons Health Care, which operates the Baillieston home, said: "Five members of staff have been suspended from Baillieston Care Home following concerns raised regarding their conduct towards residents.
"In line with our procedures all families and relevant authorities have been notified and the home is fully co-operating with the investigation. The home now has a new manager."
A spokesman for the Care Commission said: "We are aware of a number of incidents of alleged abuse to residents at Baillieston Care Home, which are currently being investigated by the police.
"Since the allegations were made, we have visited this service and we are satisfied that it is taking appropriate action to protect the wellbeing of residents.
"The Care Commission will now await the outcome of the police investigation before considering whether further action is required."
Related Internet Links
The BBC is not responsible for the content of external sites.