Tommy Sheridan 'attended porn TV club in Manchester'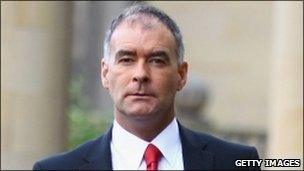 A childhood friend of Tommy Sheridan has told a court that he went to a club in Manchester with the former MSP.
Gary Clark said he remembered the club showing pornography on TV screens. The jury earlier heard allegations that Mr Sheridan attended a swingers club.
The former Scottish Socialist Party (SSP) leader, and his wife Gail, both 46, are on trial accused of perjury.
They deny lying in Mr Sheridan's successful defamation action against the News of the World in 2006.
Mr Sheridan won £200,000 in damages after the newspaper printed allegations about his private life, claiming he was an adulterer who had visited a swingers club.
Following a police investigation, the former MSP and his wife were charged with perjury.
Mr Clark told the High Court in Glasgow he got to know Mr Sheridan when they were growing up in the city's Pollok area.
They lost touch after leaving school, but Mr Clark said he renewed his friendship while Mr Sheridan was in jail for "defending his principles".
Mr Clark told the court he turned to alcohol when his wife left him on his birthday, on 13 September 2002.
The former footballer was asked by prosecutor Alex Prentice if he had ever met Katrine Trolle - a previous witness who claims to have had an affair with Mr Sheridan.
Mr Clark said he had met her while travelling in his car with Mr Sheridan, Andy McFarlane and Anvar Khan - a journalist who claimed she went to a swingers club with an MSP.
Mr Clark said Mr Sheridan was behind the wheel in what was a "fairly long" journey to Manchester.
Asked where he went in the city, the witness replied: "Went to a club. I did not know what it was called at the time.
"It was a wee bit more unusual than any other club I had been in before," he said.
"There was pornography on the TVs around the club."
When Mr Clark was asked if he could recall anything unusual about the club, he said: "It was not showing Tom and Jerry on the TVs."
The 46-year-old, who had been drinking wine, said he "did not have a clue" how long he spent at the club or what he did afterwards.
He then told the court police spoke to him after Mr Sheridan's victory in the 2006 defamation action.
Mr Prentice said: "What did you say?" Mr Clark replied: "Virtually nothing. I took legal advice and never disclosed much."
The court heard he was again questioned before a sheriff last year, but did not admit to being at the club because he was embarrassed and "did not want to bring the shame to my family and myself".
The witness was then questioned by Mr Sheridan. The court heard how Mr Clark had been approached by the News of the World, which he said were going to put him as Mr Sheridan's "wing pilot" at various times and places.
Mr Sheridan suggested the witness had been "going through hell" in his life in September 2002 and had reached an abyss of drink, drugs and depression.
He asked Mr Clark: "Is it not the case that your memory is simply not reliable?" Mr Clark said: "Yes, definitely."
Mr Sheridan added: "Things suggested to you may have filled gaps, but you are not 100%?"
He replied: "I am 100% certain about certain things, Tommy."
Three SSP colleagues who previously gave evidence were also recalled for Mr Sheridan to question.
Ex-MSP Carolyn Leckie told him the party should "blown him out of the water" for what he put SSP members through.
Mr Sheridan accused Ms Leckie and others of not liking the credit and "limelight" he got for the party's success.
She said: "You call that limelight? It absolutely frightened me how well you could lie, Tommy."
Mr Sheridan also questioned her about a sworn statement her partner and fellow party member Alan McCombes gave to a newspaper in November 2004.
This was an account of a meeting on 9 November, in which it is claimed Mr Sheridan admitted going to a swingers club.
Ms Leckie said she had been aware Mr McCombes was going to "brief" the Sunday Herald "off the record", and added: "I thought it was a good idea. We were frightened that we would be blamed for covering up for you.
"It made me sick seeing you in parliament and that you were apparently doing this (resigning as SSP leader) for Gail."
Ms Leckie said she did not reveal her knowledge of the affidavit at a heated party meeting in 2006 because it was like a "Nuremberg Rally".
Former SSP national convener Alan Green also returned to the witness box and was quizzed about claims that Mr Sheridan had spoken about "transporting a gun" at the 9 November meeting.
Mr Green said it was "surreal" as it was "largely ignored" by those present due to more pressing concerns.
SSP member Catriona Grant was the final witness.
She said she remembered stating there was a "gender" issue surrounding the case as women in the party had been called "witches" and "liars".
Mr Sheridan said: "Your hatred for me is such is that you would lie?" Ms Grant replied: "That is absolutely stupid, Tommy."
It is alleged that Mr Sheridan made false statements as a witness in his defamation action against the News of the World on 21 July 2006.
He also denies another charge of attempting to persuade a witness to commit perjury shortly before the 23-day legal action got under way.
Mrs Sheridan denies making false statements on 31 July 2006, after being sworn in as a witness in the civil jury trial at the Court of Session in Edinburgh.
Related Internet Links
The BBC is not responsible for the content of external sites.