Argyll and Bute Council sets out school cuts plan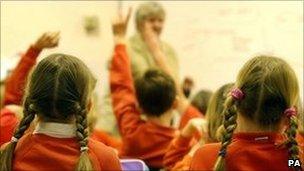 Argyll and Bute Council has drawn up plans to cut 26 primary schools in a bid to save £15m by 2014.
Under the proposals, to be considered next week, the schools would amalgamate into 20 "receiving" primaries.
The council said a recent review had revealed that 59% of all its primaries were less than half full.
It has also emerged that the wife of Scottish Education Secretary Mike Russell works at one of the schools which may be merged.
A plan to consult on the proposals will be considered at a special meeting of the council's executive on 2 November.
If it is given the go-ahead, it could pave the way for a final decision by Spring 2011 to reduce the number of primary schools from 80 to 54.
Cleland Sneddon, Argyll and Bute Council's executive director for community services, said the authority faced "challenging financial times".
He said: "Education accounts for more than one third of the council's total budget. If we don't make savings in our education service we will have to make bigger savings from other services.
"There is a real risk that we won't achieve our vision unless we make significant changes.
"But the council won't take these decisions lightly or in isolation. There will be full consultation and I hope everyone will share their thoughts so everyone can be sure our decisions are the right ones."
Argyll and Bute Council has a total annual budget of £278m.
It anticipates a shortfall of between £9m and £13m each year for the next three years.
The authority hopes to cut its education budget, currently £99.6m, by 15% over the same period.
Argyll and Bute said savings had been identified during a "comprehensive review" of the education budget.
This, it said, had revealed that 59% of its primary schools were less than half full, with some having fewer than five pupils.
The authority said that similar rural council areas only had an average of 29% of schools less than half full.
It said school rolls in the area had been falling for a number of years, with predictions showing a likely reduction in the number of school age pupils by about 13% by 2015 and by 19% by 2020.
The council said its review also considered how cost effective each school was, including the amount spent on maintenance.
It said reducing the number of buildings would allow more money to be spent on others.
Education Secretary Mike Russell said it was for the council to decide how it delivers services locally as long as the public were consulted in a "full and transparent process".
He added: "In addition, I recently announced that I want local authorities to consider all alternatives to closure that might come from communities themselves.
"With that in mind I am sure that the council will be working with the local community to consider what would be best and to ensure that the process is taken forward fairly."
A spokesman for the Scottish government said Toward, the school run by Mr Russell's wife, would be treated no differently to other schools.
Sandy Longmuir, from the Scottish Rural Schools Network, said he was surprised that some schools were on the list as they had more than 50 pupils.
He also suggested that council savings may be minimal in some cases, once factors such as the cost of transporting pupils to neighbouring schools is taken into account.
Mr Longmuir said the potential closures in Argyll and other parts of Scotland indicated "a scale of rural school closures not seen since the Seventies in Scotland".
He added: "We didn't expect this threat under an SNP government which promised to protect them."
Related Internet Links
The BBC is not responsible for the content of external sites.