Tommy Sheridan asked to resign by colleague Curran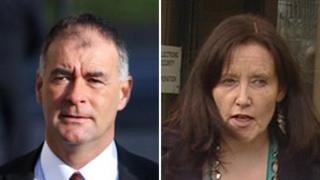 A former MSP has told a perjury trial that she asked Tommy Sheridan to resign the day after she claims he admitted to visiting a swingers club.
Frances Curran, 49, told the High Court in Glasgow that she told Mr Sheridan she had "expected more honesty and principle" from him.
Mr Sheridan and his wife Gail, both 46, are accused of perjury.
They deny lying during his successful defamation case against the News of the World in 2006.
The former Scottish Socialist Party (SSP) leader won £200,000 in damages after the newspaper printed allegations about his private life, claiming he was an adulterer who had visited a swingers club.
Following a police investigation, Mr Sheridan and his wife were charged with perjury.
Ms Curran became the 13th witness to tell Mr Sheridan's perjury trial that she heard him admit to visiting a swingers club during an emergency SSP meeting on 9 November 2004.
The following day, she said she met Mr Sheridan and fellow SSP MSP Colin Fox for tea and biscuits in an Edinburgh hotel and asked him to resign.
She told the court: "The court action was the big problem for us.
"We couldn't get the party locked into lying in a court action. We were trying to decouple the party from the court action.
"He could stay as convener if he was prepared to either put his hand up or shut up," she said, adding that they told Sheridan "he was on his own" if he decided to sue the newspaper.
"We said to Tommy: 'Are you going to take the court action?' He said: 'Yes'.
"I said: 'Well, we want your resignation.'
Ms Curran said that Mr Sheridan told her he "would have expected more loyalty" from her.
She said she replied: "Tommy, I would have expected more honesty and principle from you."
Ms Curran said Mr Sheridan was convinced there was "not one scintilla" of proof that he had visited the club, and told her "There is nothing that can tie me to that".
"He said how did I know it was him," she added.
"I said: 'Because you told me last night.' He admitted he had been to the sex club with Anvar Khan."
'Not lying'
Ms Curran said she told Mr Sheridan she was not prepared to lie for him, but also said she would not go "running to the tabloids" with the story.
She said she told Mr Sheridan: "I'm not going to lie to people I have known and worked with for a long time and I'm not lying in court.
"I said, don't drag me into court because I'm not lying."
Ms Curran said she thought her former party leader and long-time Socialist colleague had been "stupid" in his actions.
She said: "I couldn't believe he had been so stupid. He went to a sex club with a News of the World columnist. I don't know what he thought she would write about afterwards.
"I also thought he was absolutely crazy to take a case to court."
Under cross-examination by Mr Sheridan, who is conducting his own defence, Ms Curran accused him of "selling out".
She told him: "The problem is the crime that you are in the dock for is not your biggest crime.
"Your biggest crime is a sell-out. You sold out your party, you sold out the people who voted for you.
"It's a disgrace that you are publicly humiliating people in this way."
Mr Sheridan showed Ms Curran the transcript of her appearance before the Court of Session in Edinburgh in 2006 in which she was asked about the whereabouts of the minutes of the meeting of 9 November 2004.
She had told the court then that she had given the minutes to Alan McCombes, but Mr Sheridan suggested she had lied then, saying that following the meeting the minutes were in fact given to Allan Green.
'Political strategy'
He said that saying Mr McCombes was given the minutes was part of a "political strategy" decided by the party in advance of the court appearance, and she had "lied under oath".
Ms Curran responded: "Is this your whole defence? They're lying, they're lying, they're lying?
"Liar, liar pants on fire? Is that your defence in the whole of this?"
The court later heard from SSP secretary Barbara Scott.
She said she was told by SSP colleague Anne Edmonds it was her "duty to lie" for Mr Sheridan.
Miss Scott, who took minutes at the 9 November meeting, was another witness recalled by Mr Sheridan for questioning.
It is alleged that Mr Sheridan made false statements as a witness in his defamation action against the News of the World on 21 July 2006.
He also denies another charge of attempting to persuade a witness to commit perjury shortly before the 23-day legal action got under way.
Mrs Sheridan denies making false statements on 31 July 2006, after being sworn in as a witness in the civil jury trial at the Court of Session in Edinburgh.
The trial, before Lord Bracadale, continues.