North Ayrshire Council conned out of £270,000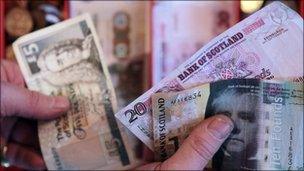 A Scottish council has been conned out of £270,000 in a fraud involving a bogus supplier.
North Ayrshire Council was duped after criminals, posing as an official contractor, used forged documents instructing a change of bank details.
Earlier this year, South Lanarkshire Council lost £102,000 in a similar con.
Strathclyde Police said a 44-year-old man had been arrested by West Midlands Police in connection with fraud at North Ayrshire Council.
A spokeswoman said: "Officers from Strathclyde and West Midlands Police economic crime units are working closely together to investigate alleged acts of fraud within local authorities in North Ayrshire and South Lanarkshire.
"At present, a 44-year-old man has been arrested by West Midlands Police in connection with an alleged fraud at North Ayrshire Council.
"We work closely with all police forces, sharing information in order to expedite the arrest and conviction of individuals involved in criminal activities."
North Ayrshire Council's director of finance Alasdair Herbert said that the scam was discovered in September.
The council had been reviewing its procedures for updating creditors' bank details following e-mail alerts regarding a nation-wide fraud.
"It has now emerged that - prior to that review - we had processed a forged document from a bogus company claiming to be one of our creditors," he said.
"The forged document was used to fraudulently obtain a significant sum of money from the council between September and October.
"We contacted the police as soon as we discovered that the fraud had taken place and this resulted in an individual being arrested and charged in Wolverhampton on Friday afternoon."
Mr Herbert said the council was commissioning an independent investigation into the fraud and would continue to co-operate with the police investigation.
He added: "We are confident of recovering at least £117,000 of the £270,000 which was fraudulently obtained and will work with the police, banks and our insurers to recover as much of the money as possible.
"We have alerted other local authorities and local businesses to the methods used in this fraud and would be willing to share any information they may require to ensure they do not fall victim to the same crime."
Related Internet Links
The BBC is not responsible for the content of external sites.