Ward closed at Southern General after infection death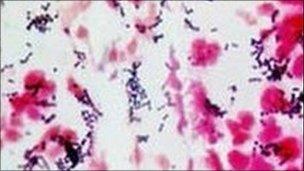 A ward at Glasgow's Southern General Hospital has been closed to new admissions after an elderly patient died from a bacterial infection.
The 88-year-old patient, who had a serious underlying health condition, tested positive for Group A streptococcal infection.
Two other patients have also tested positive. They are in isolation and are responding well to treatment.
Health officials said infection control procedures had been put in place.
Dr Pauline Wright, who chairs NHS Greater Glasgow and Clyde's outbreak control team, said: "We would like to extend our deepest sympathies to the family of the patient who has sadly passed away.
"As soon as we became aware of these cases the ward was closed and a range of additional infection control measures have been put in place to limit any spread of infection.
"Both patients affected are being nursed in isolation and have been put on a course of medication to treat the infection."
Most Group A streptococcal infections are relatively mild. The infection can result in a sore throat or skin infection such as impetigo and can also cause respiratory infections.
On rare occasions, the bacteria can cause serious illness. These are known as invasive infections and are usually caused when the organism enters the system through an open wound or skin lesions.
Related Internet Links
The BBC is not responsible for the content of external sites.