In quotes: Stars pay tribute to Gerard Kelly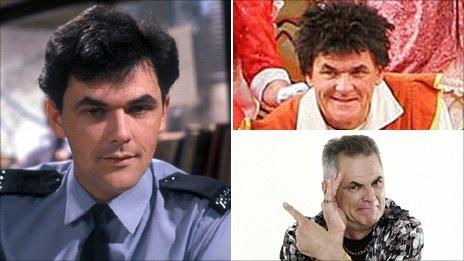 Stars of stage and screen have been paying tribute to Gerard Kelly who has died at the age of 51 after suffering a brain aneurysm.
The Glasgow-born actor found fame in the BBC comedy City Lights. He also appeared in popular television soaps and a number of film roles.
ELAINE C SMITH, COMEDIAN AND ACTRESS
He was a warm, kind, funny human being. We had lots of similar views on politics and the world.
One of my fondest memories is of me dressed as a fairy and Gerard as Wishee Washee as we stood discussing the situation in Palestine.
He will be sadly missed by so many people and my heart goes out to all his friends and family.
IAN AND JANETTE TOUGH, THE KRANKIES
The Krankies are deeply saddened by the news this morning of Gerard's death.
He was a great comedy actor and pantomime performer, in the true Scottish style of Stanley Baxter, Ricky Fulton, Jimmy Logan, also proving he could turn his talent to straight acting, playing some great parts on numerous TV soups and dramas.
A great loss to British theatre.
ANDY GRAY, ACTOR AND WRITER
I was a friend and colleague of Gerard's for 30 years and we grew up in this business together.
We were great friends and I will miss the fun we used to have. We shared great chats and many laughs over the years and I have lost someone who I greatly admired and respected.
He will be very sadly missed.
KEN MacQUARRIE, DIRECTOR BBC SCOTLAND
Gerard will be greatly missed by everyone who had the pleasure of working with him.
He appeared in many BBC Scotland radio and television productions over the years and will be remembered not only for the range and quality of his performances but also for the warmth of his personality off air.
Our thoughts are with his family at this sad time.
Everyone at the King's Theatre is shocked and saddened by the news of our dear friend Gerard Kelly.
Our thoughts are with his family at this moment. The King's Theatre crown has lost one of its most precious jewels.
IAIN GRAY, SCOTTISH LABOUR LEADER
I was shocked and saddened to hear about the death of Gerard Kelly, who endeared himself to the Scottish public through his television and theatre performances.
Gerard Kelly also appeared in previous Labour Party election broadcasts and we are grateful for his generous contributions over the years.
His contribution to Scotland's cultural life will be sadly missed and fondly remembered.