NoW editor denies 'illegal culture of phone-tapping'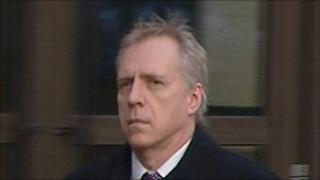 The editor of the Scottish News of the World has denied being part of an "illegal culture of phone-tapping".
Bob Bird, 54, told the High Court in Glasgow that none of his staff had instructed a private investigator to tap former MSP Tommy Sheridan's phone.
Mr Bird made the comments while giving evidence for the second day at the court, where Mr Sheridan and his wife Gail are accused of perjury.
The couple deny lying during a defamation victory against the paper.
Mr Sheridan won £200,000 in damages after the News of the World printed allegations about his private life, claiming he was an adulterer who had visited a swingers club.
Following a police investigation, Mr Sheridan and his wife, both 46, were charged with perjury.
Cross examining the editor, Mr Sheridan, who is defending himself, said: "Ten years ago you were at the heart of Wapping."
He added: "You were part of the illegal culture of phone tapping that has been widely criticised."
Mr Bird replied: "No, I was not."
Mr Sheridan asked: "You are now the editor of the Scottish News of the World. Is it your position that the illegal culture of Wapping is not practised here in Scotland?"
Mr Bird said: "I don't think there was any such culture in Wapping and it's certainly not conducted in Scotland."
Gathering evidence
Mr Sheridan asked Mr Bird: "Glenn Mulcaire may have been illegally involved in tapping my phone. Are you saying that none of your staff instructed Mr Mulcaire to carry out any such activity?"
He replied: "No."
The former politician then suggested that the News of the World's news editor, Douglas Wight, had used the services of another private investigator, Stephen Whittamore, 70 times.
However, Mr Bird said he had only seen 10 invoices for the use of his services.
The jury were shown e-mails between the editor and former columnist Anvar Khan.
The court has already heard testimony that Mr Sheridan had an affair with Ms Khan and that they visited a swingers club.
In one correspondence Mr Bird offers to "double her dosh" if she records a telephone conversation with the former MSP.
In his cross examination, Tommy Sheridan described the technique as "devious" and an "entrapment", but Mr Bird insisted he was simply gathering evidence.
In a later exchange between the witness and Mr Sheridan, Mr Bird denied his paper had spent $2m (£1m) on the 2006 libel case.
Mr Sheridan showed the jury an email from News of the World journalist, Craig Jackson.
He had written to Owl Investigations in America asking them to look at a video secretly recorded by Mr Sheridan's former friend George McNeilage in which a man identified as Mr Sheridan allegedly confesses to claims about his private life.
'String vest'
Mr McNeilage sold the tape to the News of the World for £200,000.
In the email Mr Jackson explained: "The libel trial went to court and we lost the case, in US dollars I would guesstimate this has cost us $2m so far."
He went on: "This story has gone right to the top of our organisation."
Mr Bird dismissed the figure as "a guesstimate, a pretty wild one" and said Mr Jackson was probably trying to imbue the email with urgency to catch the attention of someone working at a very busy forensic lab.
He added: "I would not take it as gospel Mr Sheridan."
However, he said that between 2004 and the end of 2006 more than £100,000 of the News of the World's Scottish budget was spent on the case, out of an annual budget of about £2m.
Mr Sheridan also questioned Mr Bird about the story the paper ran about Fiona McGuire, the woman alleged to have had an affair with the former politician.
He said that David Leslie, the News of the World crime reporter, had said he "thought her story had more holes than a string vest" and sent her packing.
But Mr Bird said they believed her story to be "substantially true".
It is alleged that Mr Sheridan made false statements as a witness in his defamation action against the News of the World on 21 July 2006.
He also denies another charge of attempting to persuade a witness to commit perjury shortly before the 23-day legal action got under way.
Mrs Sheridan denies making false statements on 31 July 2006, after being sworn in as a witness in the civil jury trial at the Court of Session in Edinburgh.
The trial, before Lord Bracadale, continues.