Witness in 'omission over seeing Tommy Sheridan'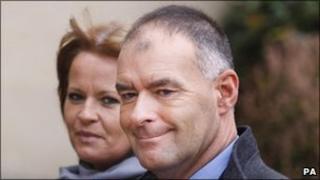 The Tommy Sheridan perjury trial has heard that a witness "omitted" to tell police he saw the politician at a hotel where an alleged sex party took place.
Matthew McColl, 50, said he was angry at an early morning police visit to his Glasgow home and "had no compunction to tell them anything but my name".
Mr Sheridan and his wife Gail, both 46, are accused of perjury.
They deny lying during his successful defamation case against the News of the World in 2006.
The former leader of the Scottish Socialist Party (SSP) won £200,000 in damages after the newspaper printed allegations about his private life, claiming he was an adulterer who had visited a swingers' club.
Following a police investigation, Mr Sheridan and his wife were charged with perjury.
Mr McColl told the High Court in Glasgow he had seen Mr Sheridan at the Moat House Hotel in Glasgow with Andrew McFarlane and four women - Anne Colvin, Helen Allison, Jacqueline White and Beverley Dickson - on 14 June, 2002.
This was the night before Mr McFarlane's wedding to Gail Sheridan's sister Gillian in June 2002.
Mr McColl said that he, Mr Sheridan and Mr McFarlane went to the hotel after meeting for drinks in the city centre.
He said he had invited Jacqueline White and another woman called Beverley Dickson to the hotel.
The court was told she was an old friend who had flown up from Birmingham because she "fancied" coming to Glasgow for "a night out and some shopping".
Mr McColl said he had discussed booking a suite of rooms at the hotel with Mr Sheridan and Mr McFarlane so they could continue drinking after the hotel's bar closed.
He said he initially went to the suite with Ms White, Ms Colvin and Ms Allison but left shortly afterwards to collect his credit card from behind the bar.
He told Advocate Depute Alex Prentice QC: "When I returned from the bar, the people who were in the suite were Jacqueline White, Helen Allison, Beverley Dixon, Anne Colvin, Tommy Sheridan and Andy McFarlane."
Mr Prentice asked him: "You omitted to tell the police that Mr Sheridan was at the Moat House Hotel?"
Mr McColl replied: "Yes. To my recollection Mr Sheridan was at the Moat House."
Early adjournment
The trial was adjourned for the day after Mr McColl refused to reveal the identity of his girlfriend at the time.
Under cross-examination from Mrs Sheridan's QC, Paul McBride, Mr McColl was asked: "Did you have a partner? Did you have a girlfriend?"
"Did you go to the wedding the next day with your girlfriend? What was her name?"
Mr McColl replied: "I'm not prepared to give her name in court. Everything said in this court is reportable and I'm not prepared to do it.
"You can ask me until you are blue in the face. I'm not prepared to change my position."
The trial was briefly halted before the judge sent the jury home for the day.
It is alleged that Mr Sheridan made false statements as a witness in his defamation action against the News of the World on 21 July 2006.
He also denies another charge of attempting to persuade a witness to commit perjury shortly before the 23-day legal action got under way.
Mrs Sheridan denies making false statements on 31 July 2006, after being sworn in as a witness in the civil jury trial at the Court of Session in Edinburgh.
The trial, before Lord Bracadale, continues.