Fears for River Doon in Scottish Power scheme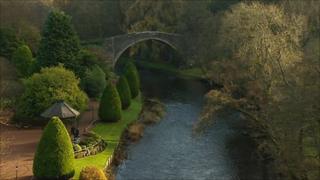 Scottish Power is facing fierce criticism over plans to reduce the water level in the River Doon.
Loch Doon in East Ayrshire, which is the source of the river, is part of the Galloway hydro electric scheme.
Scottish Power wants to divert water from the Doon, arguing the proposal is designed to comply with the European Commission's Water Framework Directive.
But local campaigners said the plan threatened jobs and salmon stocks in the Ayrshire river.
The energy firm believes it should divert some of the water which is currently fed into the Doon into another river in south-west Scotland, the Dee.
The company said the move would benefit the ecology of both rivers and argued that water levels in the Doon have been kept higher than would naturally be the case for decades.
Hugh Finlay of Scottish Power said: "The flow in the River Doon is artificially high at the moment and we're looking to address that and get it back to its best possible condition.
"In fact, if Rabbie Burns was to come back now to that famous river, he would be seeing a much bigger flow of water than he was used to in his time."
But local campaigners have claimed the River Doon could be reduced to little more than a "polluted trickle", with devastating consequences.
Brian Shaw, senior biologist at the Ayrshire Rivers Trust, fears that lower water levels will prevent salmon making their way up the river to spawn.
He said: "The River Doon is actually the best salmon river in the west coast of Scotland. It's got the highest average catch. But aside from that, it's an ecological hotspot.
"The whole ecology of the river could be at risk. If the water flow is reduced, the water quality will go down and the salmon run is also under threat from this proposal."
Local business leaders fear that jobs could be at risk too.
Henry Simpson, of the River Doon Trout Company in Dalrymple, said his fish farm relied on fresh water from the river.
He said: "Reducing the flow could potentially close this business down. That would put men out of work and it would be totally damaging to this area."
The Scottish Environment Protection Agency will make a final decision on whether Scottish Power's plans should be implemented.
Members of the public have until 16 December to make representations to Sepa.