Fifteen arrests as Rangers take on Manchester United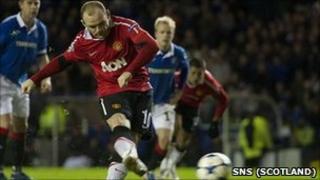 Fifteen people were arrested as Rangers took on Manchester United in the Champions League at Ibrox, police say.
A late penalty from Wayne Rooney gave United a 1-0 victory and ensured them a place in the last 16, with Rangers dropping into the Europa League.
Eight Rangers fans and four away supporters were arrested during Wednesday's match.
Strathclyde Police said a further three people were arrested outside the stadium.
Alleged offences included breach of the peace and drunken behaviour.