Charges dropped in Tommy Sheridan perjury trial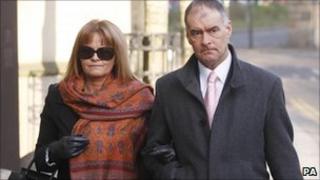 Prosecutors in the Tommy Sheridan perjury trial have dropped four charges against the former MSP and his wife.
The Crown will not pursue Mr Sheridan over two allegations of lying during his successful defamation case against the News of the World in 2006.
Two charges were also dropped against his wife Gail.
The accusations related to an alleged sex party at a Glasgow hotel in 2002. The Sheridans still face other charges of perjury which they deny.
Mr and Mrs Sheridan, both 46, deny lying during his successful defamation case against the News of the World.
The former leader of the Scottish Socialist Party (SSP) won £200,000 in damages after the newspaper printed allegations about his private life, claiming he was an adulterer who had visited a swingers' club.
The indictment against the Sheridans contains three charges in total, two of which are broken down into subsections.
It is alleged Mr Sheridan made false statements as a witness in the defamation action of 21 July 2006.
He also denies a charge of attempting to persuade a witness to commit perjury shortly before the 23-day trial got under way.
Mrs Sheridan denies making false statements on 31 July 2006, after being sworn in as a witness in the civil jury trial.
A total of eight subsections on the indictment were deleted at the High Court in Glasgow on Thursday.
Advocate depute Alex Prentice QC told the jury: "I have been able to review matters and I have moved to delete some parts of the indictment."
He then told the jury which parts were to be removed.
Deleted allegations
The deleted allegations stated Mr Sheridan had lied at the civil jury trial at the Court of Session in Edinburgh when he said there had been "no event" at the Moat House Hotel in June 2002, where he was alleged to have had sex with Beverley Dixon.
They also state he said Helen Allison and Anne Colvin lied in their evidence when they told the trial Mr Sheridan had been at the Moat House Hotel in Glasgow with his brother-in-law Andrew McFarlane.
The allegations removed against Gail Sheridan claimed she had lied when she told the court she had been with her husband during the whole evening on 14 June 2002, when the Moat House party was alleged to have taken place.
The second deleted allegation was that she had also lied about visiting Andrew McFarlane with Mr Sheridan on 15 June 2002.
The sudden development occurred after witness Matthew McColl, said to have organised the alleged night at the Moat House Hotel, faced claims he had lied during his evidence.
Mr McColl returned to the witness box on Thursday after the trial was halted the previous day when he refused to answer a question about the identity of a girlfriend.
Club questions
The 50-year-old business consultant apologised to the court for his "uncharacteristic" behaviour.
Mr McColl admitted he had visited a club called Adam and Eve's "many years ago".
Paul McBride QC, representing Mrs Sheridan, said it was a swingers' club where Mr McColl had met and had sex with Beverley Dixon - a woman alleged to have attended a sex party at the Moat House Hotel.
Mr McColl said he had thought Adam and Eve's was a lap dancing club, and insisted he had not had sex with Ms Dixon.
The court also heard Mr McColl had told police four times that Mr Sheridan had not been at the Moat House Hotel but had changed his story in court.
Mr McBride claimed Mr McColl would tell the court "any old rubbish" to make himself look good if there was something that put him into difficulty in his private life.
Mr McColl replied: "I don't think that is the case."
The trial, before Lord Bracadale, was adjourned until Friday.