Fuel laundering plant in South Lanarkshire dismantled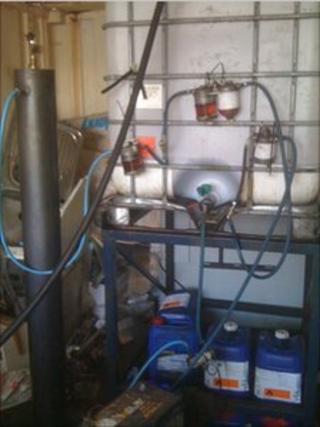 Customs officials have dismantled a fuel laundering plant in South Lanarkshire capable of producing 750,000 litres of illegal fuel a year.
HM Revenue and Customs officers found equipment being used to launder red diesel after swooping on a commercial property in Netherburn.
Officials said the plant could have cost the taxpayer nearly £475,000 a year in lost revenue.
Nearly 8,000 litres of fuel, charcoal and a drum of toxic waste were removed.
Officers also took away pumps, storage tanks and filtration equipment.
A man was questioned in connection with the laundering operation and investigations are continuing.
Michael Connolly, assistant director of HMRC specialist investigations, said: "Fuel laundering is unregulated and dangerous.
"Every year taxpayers have to bear the costs of dismantling equipment used to launder diesel and to safely remove the toxic and dangerous residue, which is often dumped in the countryside."