Salmon fears after crayfish found in River Kelvin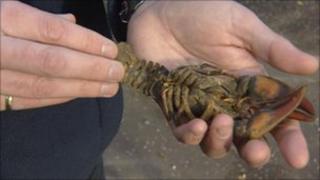 An invasive species of crayfish has been found in the Glasgow area for the first time, sparking concern among conservationists.
Scottish Natural Heritage (SNH) revealed American signal crayfish have been discovered in the River Kelvin.
There are fears the arrival of the alien species could be a major setback for anglers and conservationists working to improve salmon stocks.
Crayfish eat fish eggs, and there are concerns stocks could now tumble.
Salmon numbers have increased in the Kelvin in recent years as water quality has improved, but anglers expressed concern at the arrival of the non-native invasive species in an urban environment.
Paul Reid of the River Kelvin Angling Association said: "The Kelvin is a recovering salmon river, so we're obviously concerned that the time and effort that's been put into re-establishing the salmon population may be affected by the American signal crayfish."
It is not known how the crayfish arrived in the Kelvin as the nearest population is thought to be 50 miles away. But experts believe they may have been deliberately introduced by someone hoping to harvest them.
'Damage done'
Dr Colin Bean of SNH said: "Once the damage is done, it's done - we can't turn back the clock. And that's the key message for me.
"We shouldn't be moving animals around from one environment to another, because we're always unsure about what the impact may be."
The American signal crayfish is already causing ecological problems at rural sites across Scotland.
Earlier this year, the Scottish Environment Protection Agency (Sepa) announced a project to tackle the spread of non-native species, including the signal crayfish, in river catchment areas in Dumfries and Galloway.