Consultation over Argyll and Bute school closures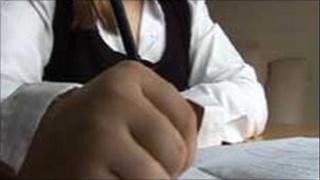 Argyll and Bute Council has narrowly voted to put a controversial school closure plan out to public consultation.
The authority voted 19-17 in favour of a consultation on reducing the number of primary schools from 80 to 55 as protesters demonstrated outside the council's headquarters.
Under the plans, the primaries would amalgamate into 19 "receiving" schools.
The authority claims the proposals are needed to save £15m by 2014.
But protesters have said they are unnecessary.
Councillors agreed to withdraw one proposal which would have seen Luing Primary amalgamate with Easdale Primary.
Dozens of people opposed to the plans held a demonstration in Lochgilphead, and SNP councillors walked out on the authority's ruling coalition to voice their opposition to the proposals.
The council previously said a recent review had revealed that 59% of all its primaries were less than half full and changes were needed to balance its budget.
'Challenging times'
Argyll and Bute Council said "challenging financial times" meant that significant changes were needed to the education budget to avoid deeper cuts elsewhere.
Officials claim that none of the 515 children who would be affected by the changes would have a journey of more than 45 minutes to an alternative school but that has been questioned by campaigners.
The rationale for the proposals has also been questioned by the Scottish Rural Schools Network, which believes some of the projected savings may be minimal.
Council Leader Dick Walsh said the authority wanted to give people across Argyll and Bute the chance to play a full part in the consultation process.
He continued: "I want to assure the public that no decisions have been taken, and that no decisions will be taken until we have gathered and assessed the responses we receive during the consultation.
"Given the very challenging financial climate over the next few years we, in common with Scotland's other 31 councils, are having to explore all avenues in terms of potential savings."
The authority's total annual budget is currently £278m.
It anticipates a shortfall of between £9m and £13m each year for the next three years.
The authority hopes to cut its education budget, currently £99.6m, by 15% over the same period.