March and rally against racism in Glasgow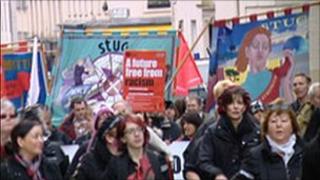 Up to 2,000 people have taken part in Glasgow in a march and rally against racism, according to organisers.
The St Andrew's Day protest was attended by trade unionists, faith and community groups and politicians.
The annual event was organised by the Scottish Trades Union Congress (STUC).
Union leaders said the rally would remind people in challenging economic times of the dangers of allowing prejudice and discrimination to go unchallenged.
Speakers included Prof Geoffrey Palmer of Edinburgh and Lothians Racial Equality Council and human rights lawyer Aamer Anwar.
The STUC said the march also had the support of Prime Minister David Cameron, First Minister Alex Salmond and other politicians from across the political spectrum.
Speaking ahead of the rally, Scottish Labour leader Iain Gray called on every Scot to "challenge racism wherever it surfaces".
He added: "We can use the law but that is not enough. It is up to all of us to confront it in everyday life - in the workplace, in the playground, at a football stadium or when with friends and neighbours."