Glasgow City Council defends snow school closures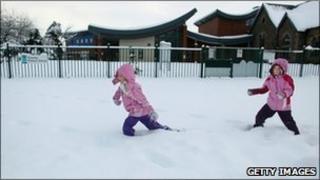 Scotland's largest council has defended a late decision to close all of its schools and nurseries due to adverse weather conditions.
Glasgow City Council confirmed the closures at 0800 GMT on Wednesday - leaving many parents without childcare.
Some have contacted BBC Scotland to complain as schools had been open during previous days of bad weather.
The council said its decision had been taken on safety grounds and many staff had been unable to make in into work.
A total of 30 secondary schools, 147 primaries, 120 early years centres (nurseries) and 31 additional support for learning centres have been closed.
A spokesman said: "Our decision to close schools was taken in the interests of the safety of both children and staff.
"We announced the decision as quickly as possible once problems caused by the adverse weather came to light this morning.
"It is a very rare decision for Glasgow City Council to close its schools and is not taken lightly.
"Our aim would always be to keep them open for as long as possible and the vast majority were open on Monday and Tuesday.
"However, the safety of children and staff must come first."
BBC Scotland has been contacted by parents across the country who are concerned that blanket closures are being applied by councils without justification.
One parent, Audrey from Glasgow, told BBC Radio Scotland's Call Kaye programme that she was "very shocked" by the closures across the city.
"I have two children and I can't make childcare arrangements now to get into work and I just feel it was the wrong decision to be made," she said.
"The children went to school Monday and Tuesday without difficulty and the teachers have been in the school.
"It would have been different if there were access problems or internal problems within the building, which is risking the health and safety of my children, but that is clearly not the case in all Glasgow schools."
Councillor concern
The programme also heard from Councillor Archie Graham, deputy leader of Glasgow City Council.
Councillor Graham said he had been "taken aback" with the closures - which had also affected his children - and there was "a communications issue" with many parents learning so late.
He said there had been a "whole batch" of teacher call-offs amid "extreme weather conditions".
"You were going to have a real problem trying to make sure there were enough teachers in many of the schools to teach the kids," he said.