Kilmarnock dog attack owner pleads guilty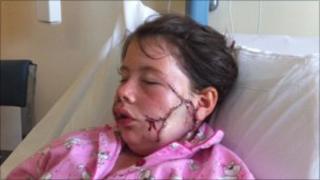 The owner of a dog which attacked a girl in Kilmarnock leaving her with severe facial wounds has admitted to failing to control the animal.
Toni Clannachan, 10, needed more than 100 stitches after being bitten in the face while playing in a schoolfriend's garden in August.
At Kilmarnock Sheriff Court, Gaynor McCabe pleaded guilty to a charge under the Dogs Act 1871.
The court also ordered the Akita dog to be destroyed.
Speaking after Ms McCabe's guilty plea, Les Brown, procurator fiscal for Kilmarnock, said: "The conviction of Gaynor McCabe today, and the destruction of the dog involved in the horrific attack on a young girl, sends out a clear message that owners of dogs have to take responsibility for keeping them under proper control.
"The Crown is committed to taking robust action in cases of this nature in order to ensure the safety of our local communities."