Strathclyde Police launch domestic abuse campaign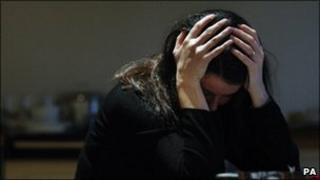 Scotland's largest police force has launched its annual campaign to tackle domestic abuse.
For the next five weeks, Strathclyde Police will aim to identify offenders who pose a risk to their families.
Offenders who are subject to special bail conditions will be also be "proactively policed" to ensure they are not breaching the conditions.
During last year's campaign, officers attended 3,961 incidents and arrested more that 1,700 offenders.
Supt Peter McPike, head of the Domestic Abuse Task Force, said: "Our message is clear - domestic abuse is unacceptable, and if you, or anyone you know is a victim, please report it to Strathclyde Police and seek help.
"Our goal is to reduce the number of victims of these crimes by targeting those who perpetrate these despicable and cowardly acts of violence.
"We will continue to challenge those who commit such crimes, whilst encouraging victims, their friends, families or anyone else to report any concerns they may have to us."
During last year's eight-week campaign Strathclyde Police recorded a 24% reduction in the number of incidents reported from the same period the previous year.