Big freeze halts Tommy Sheridan's trial again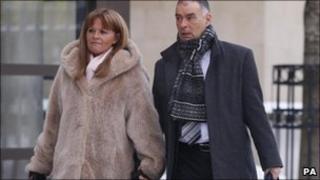 The Tommy Sheridan perjury trial has been halted for a second day as freezing conditions continue to grip most parts of Scotland.
The trial did not sit on Monday as the judge was ill and Tommy and Gail Sheridan would not make it to court.
Lord Bracadale called a halt again on Tuesday after a number of jurors were unable to attend.
The Sheridans, both 46, deny lying during his successful defamation case against the News of the World in 2006.
Mr Sheridan won £200,000 when he took the newspaper to court after it printed allegations that he had committed adultery and visited a swingers' club.
The former Scottish Socialist Party (SSP) leader and his wife were charged with perjury following a police investigation.
At the High Court in Glasgow on Tuesday, Lord Bracadale said: "Because of weather-affected transport problems a number of jurors phoned in to indicate it was impossible for them to get to court.
"On my instructions my clerk contacted the other jurors and told them not to come in. In addition the accused indicated they could not get to court. There is no alternative but to adjourn."
It is hoped that the trial will start on Wednesday for the first time this week.