Frankie Boyle backs 'snow show' go-ahead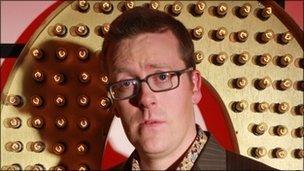 Comedian Frankie Boyle has defended a decision to go ahead with a show in his native Glasgow, despite severe weather bringing the city to a standstill.
Thousands of fans missed out on seeing his gig at the SECC on Monday as the transport network ground to a halt.
Some fans have posted angry comments on the internet after it emerged they would not be given a refund.
A statement on behalf of Boyle said the show had to go ahead as lots of people had travelled long distances to see it.
Management at the SECC said they had no option but to stage the show after Boyle turned up as planned.
In a statement, they said: "Scottish Exhibition and Conference Centre (SECC) was ready and operational and therefore contractually obliged to make the venue available to present the Frankie Boyle show last night.
"Frankie Boyle was also legally required to present the show given that he had managed to travel from England to get to the venue and the staging and production had arrived and was in place.
"Given that over 4,500 fans turned up on the night it was also the right thing to do for those fans who had travelled and who would have been left severely disappointed if the show had been cancelled.
"However there were just under 4,500 other fans who were unable to attend the show.
"The promoter, management team and artist have, however, confirmed that there will be no additional performances of the Frankie Boyle show."
In a statement, Chambers Management, which promotes Boyle, said: "While we fully understand the frustration of those fans of Frankie who couldn't make it to the gig, we have an obligation to all ticket holders to go ahead with a show when we possibly can.
"More than half the audience did manage to make it to the SECC and Frankie did not want to disappoint them."
A quote issued on behalf of Boyle stated: "Lots of people had travelled long distances to see the show, so obviously we had to go ahead."
Boyle is also due to play sold out shows in Aberdeen on Wednesday and Thursday, along with dates in Manchester, Birmingham and Aberdeen.
His spokeswoman added: "In these adverse weather conditions, we appreciate that some people could struggle to get to Frankie's remaining shows.
"However, in order not to let down all those fans who can make it to the venues, wherever possible we fully intend for these shows to go ahead."
Related Internet Links
The BBC is not responsible for the content of external sites.