Records reveal life at Victorian children's hospital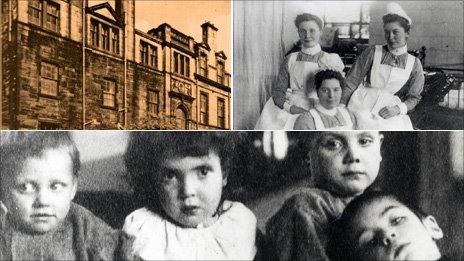 A fascinating and rare set of hospital records dating from Victorian times has been put online.
The records tell the stories of poor, sick children who were admitted to Glasgow Hospital for Sick Children from 1883 to 1903.
It is part of the Historic Hospital Admission Records Project being run by Kingston University in London.
The records give an insight into the common diseases and conditions of Victorian times.
Seven youngsters were admitted to the hospital on 20 July 1900 suffering from Deadly Nightshade poisoning after eating what they thought was treacle.
A police investigation discovered the children, from Keppochhill Road, had eaten a sore throat remedy used by a local stable owner to treat his horses.
The records note one of the children was "wildly delirious, shouted incoherently and his eyes jerked from side to side" but they all survived and were back home within a week.
Project manager, Dr Sue Hawkins said: "The hospital was very successful in treating children, most were cured and discharged.
"Respiratory problems and tubercular diseases were rife among the Glasgow patients because of the poor, overcrowded conditions endured by large swathes of the city's population, who often lived in huge tenements containing 100 or more people in each building."
Glasgow was one of the last major cities in the UK to open its own children's hospital.
Glasgow's Hospital for Sick Children was originally in the Garnethill area of the city before later moving to Yorkhill.
At its formal opening ceremony in 1882, it was remarked that there were children's hospitals, "even in Constantinople and such places of false philosophy".
The hospital itself was funded by charitable donations. Doctors earned a living from private practice and visited the hospital two or three times a week.
Very few records from children's hospitals have survived from Victorian times.
Only two more sets are known to exist in the whole of Britain: for Edinburgh and Aberdeen hospitals.
Historians at Kingston University hope to digitise these remaining records in future.
In 2015 a new chapter in the history of Glasgow's Hospital for Sick Children will begin when it moves to a new £100m facility alongside the Southern General hospital.
Related Internet Links
The BBC is not responsible for the content of external sites.